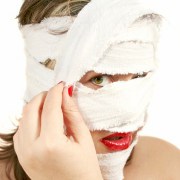 Photo: Getty Images
Amid the usual noise about celebrity plastic surgery, gnashing of teeth over cosmetic surgeon marketing campaigns and debate over whether statistics are going up or down, it's refreshing to hear of some groundbreaking work in plastic surgery that has the potential to give someone his or her life back.
That's the case at Brigham and Women's Hospital (BWH) in Boston, where a surgical team recently performed the second complete face transplant in the United States.
The patient, 30-year-old Indiana resident Mitch Hunter, was involved in a car accident 10 years ago in which he received a major electrical shock. The surgery, performed by a team of 30 professionals over a 14-hour span, replaced the man's tissues from eyelids to lips, including facial muscles and nerves (BWH1).
This is the second full face transplant accomplished at BWH. In March of 2011, many members of the same transplant team, led by plastic surgeon Dr. Bodhan Pomahac, gave Dallas Wiens a new face. The young father from Texas had been rendered blind and badly burned as his head came in contact with a power line in 2008 (Marchione and Contreras1).
Facial transplantation is still in its infancy. The first partial transplant was performed in France in 2005—less than six years ago (McCulloch1). The following year, a Chinese man also received a partial new face after being mauled by a bear (Khamsi1).
The first person in the U.S. to undergo such a procedure was Connie Culp, who received a partial face transplant at the Cleveland Clinic in 2008. About a dozen full and partial face transplants have been performed worldwide, in France, China, Spain and the U.S.(Marchione and Contreras1).
If you occasionally shake your head over celebrity faces that inflate and deflate with each application of facial fillers and fat transplant procedure, or if you get tired of the speculation about whose plastic surgery results are worst, remember the surgeons pioneering these life changing surgeries, like those at BWH, and their patients.
There's certainly nothing wrong with choosing plastic surgery for rejuvenation. Facial cosmetic surgery is a tried-and-true area of plastic surgery, and most patients report being satisfied with the outcome. But some others seek surgery for the chance to live some semblance of a normal life. To paraphrase Weins, people who have experienced the kind of horrific trauma he did can either choose to get bitter or get better.
Let's cheer for those who choose to get better, and the plastic surgeons who are learning more about how to help with each facial transplant.
Resources:
"BWH Surgeons Perform Nation's Second Full Face Transplant." Brigham and Women's Hospital. April 26, 2011. Web. April 26, 2011.
http://www.brighamandwomens.org/About_BWH/publicaffairs/news/facetransplant/facetransplanthunter.aspx
Marchione, Marilynn and Contreras, Russell. "Texas man gets first full face transplant in US." MSNBC. March 21, 2011. Web. April 26, 2011.
http://www.msnbc.msn.com/id/42192670/ns/health-health_care/
McCulloch, Marie. "Anatomy of a Face Transplant." FirstScience. December 1, 2006. Web. April 26, 2011.
http://www.firstscience.com/home/articles/humans/anatomy-of-a-face-transplant_2861.htm
Khamsi, Roxanne. "World's second face transplant performed in China." NewScientist. April 18, 2006. Web. April 26, 2011.
http://www.newscientist.com/article/dn9010-worlds-second-face-transplant-performed-in-china.html