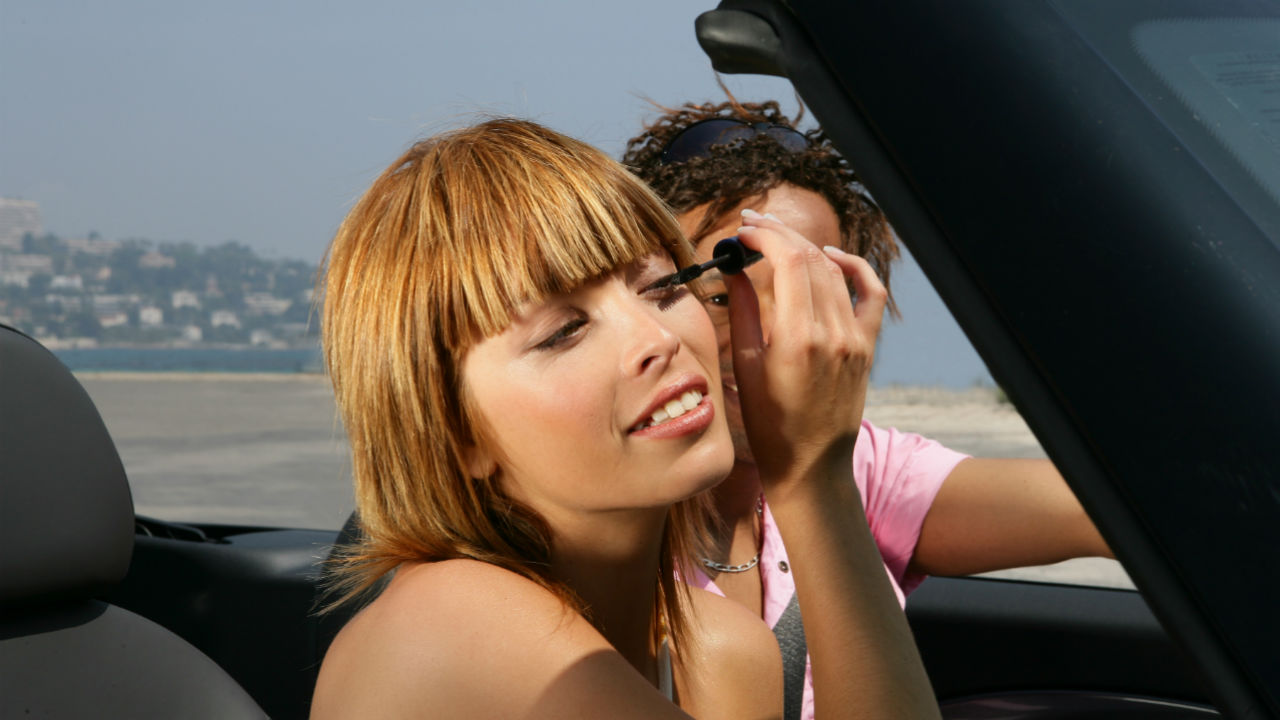 Hemera/Thinkstock
Summer is here. Your winter wardrobe has been changed out for cooler, brighter and lighter wear.
You've dusted off the sandals, flip-flops, and of course, the summer purse.
But, what about your makeup? You wouldn't think of using the same makeup you wear the rest of the year, would you?
Well, would you??
When you reach for that pretty, vibrant colored tank top you'll need lively, eye-catching makeup to go with it.
Ditch the dark red lipstick and plum wine blush. Nothing says summer like brighter and lighter.
Here's some ideal choices to add to your summertime makeup collection:
1. Start with primer.
Much lighter than foundation, primer feels weightless on your skin, but holds the rest of your makeup in place. Just like wall primer -- use it first before applying the decorative wall paint. The same idea for makeup.
2. Kick it up with bronzer.
Pale and winter-dull, be gone. Enter sun-kissed bronzer. All you need is a brush with long, fluffy bristles to apply bronzer to forehead, cheekbones, chin, and nose. Have short-hair or a pony-tail? Sweep a bit across your ears and neck, but with a light hand for that natural looking glow.
3. Sheer and tinted lips.
Weighty lipstick looks heavy and outdated in warm weather, so go for sheer lip shades. Tinted lip balms are another great summer choice and most pull double-duty with protective SPFs. Avoid the sticky lip gloss -- too tacky for summer.
4. Waterproof your eyes.
In the early days, waterproof mascara was often dry and flaky, but the new and improved versions are longer lasting and easier on your lashes. Be sure to invest in waterproof eyeliner to reduce sliding south. Raccoon eyes are a scary look for any season.
5. Go light on the lids.
Sheer eye shadow is also recommended for the hot weather months. Think soft, subtle, and lightweight. Enjoy new eye-popping shades in pastel colors. Avoid creasing with powder shadows. Cream tends to melt away in the heat.
6. Refresh and de-shine.
Blotting papers are the way to go to absorb T-zone oils and perspiration. To eliminate unsightly shine in seconds, use blotting papers found in the cosmetic section of most drug stores. They are inexpensive and easy to slip into a summer clutch or back pocket of your favorite jeans. For extra absorption, dust on a light, translucent powder to keep the shine to a minimum.
Sources and shopping tips:
9 Summer Makeup Tips. Real Beauty. Web. 13, June, 2012 http://www.realbeauty.com/makeup/how-to/nine-summer-makeup-tips
Summer Forecast. Sephora.com. Web. 13, June, 2012.
http://www.sephora.com
Edited by Jody Smith