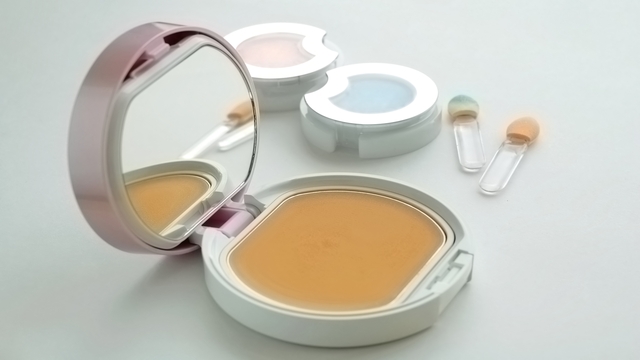 Fai Wong/PhotoSpin
Part 1 of a 2-part series looking at environmental exposure to everyday chemicals and your health.
You may have heard quite a lot about parabens lately. Parabens are chemicals found in everyday products like cosmetics, soaps and toothpaste that some studies show may put you at increased risk of breast cancer, male and female infertility, skin damage and premature aging.
Parabens are added by manufacturers to cosmetics and personal care products, such as soaps, moisturizers, shaving cream and underarm deodorant, toothpaste, spray tanning solutions, personal lubricants and some food and beverages to extend the products' shelf life.
Parabens have been routinely used in everyday products since the early 1950s. They are absorbed into the body by touching, swallowing, or eating products containing parabens.
Until recently, parabens have been thought to be generally safe since they are quickly excreted in urine. However, some recent research suggests there may be cause for concern.
The National Health and Nutrition Examination Survey (NHANES) is one famous study which was conducted by the US Centers for Disease Control and Prevention (CDC) in 2005-2006. The survey looked at how widespread environmental paraben exposure is, and just how much of the chemical has entered people's bodies.
Scientists measured parabens in the urine of more than 2,548 people 6 years of age and older. They found two parabens -- methylparaben and propylparaben -- in the urine of most of the people tested, indicating widespread exposure to these parabens in the U.S. population.
The highest concentrations were found in people younger than age 60, non-Hispanic blacks and females. In fact, females had several-fold higher concentrations of methylparabens and propylparabens than males, probably because of greater use of beauty products containing parabens.
So why should you care?
A 2004 study by Dr. Philippa Darbre published in the Journal of Applied Toxicology found parabens in some breast tumors. The Darbre study didn't conclusively prove parabens cause breast cancer, but the chemicals have the ability to slightly mimic estrogen, a hormone known to play a role in the development of breast cancer.
Darbre reasoned the tumors were from something applied to the skin, such as an underarm deodorant, cream or body spray, and stated that the results helped to explain why up to 60 percent of all breast tumors are found in just one-fifth of the breast -- the upper-outer quadrant, nearest the underarm.
Darbre completed a second small study of 40 women in 2012 and found one or more parabens in 99 percent of the breast cancer samples tested, and 96 percent of the samples contained all five of the most common parabens.
A 2004 study at Northwestern University found that an earlier age of breast cancer diagnosis related to frequent use of antiperspirants, deodorants and underarm shaving.
This was a retrospective study were women reported via questionnaire about their use of antiperspirants and deodorants for the previous eight years. This type of study relies on the memory of the 500 breast cancer survivors who returned the surveys.
"I personally feel there is a very strong correlation between the underarm hygiene habits and breast cancer," said immunologist Dr. Kris McGrath, the author of the study when interviewed in 2004.
Other studies have linked the estrogen-mimic aspect of parabens as a factor in the increasing prevalence of early puberty in girls as young as six years of age.
Parabens may also be linked to male infertility. A review published in the January 2009 issue of Reproductive Toxicology reported a "probable" interaction between parabens and the health and activity of cells in the testes.
"These chemicals are everywhere in our society so getting away from them entirely is impossible," says Dr. Samuel H. Wood, a reproductive endocrinologist in San Diego who specializes in infertility.
He says most studies done on males indicate that parabens have an anti-androgen effect that contributes to decreased sperm production.
"Some studies have also shown expectant mothers with parabens exposure to give birth prematurely. In some cases, their male newborns have a shortened distance between the anus and genitalia, and at three months, these babies' testosterone levels were at below normal," he said.
Despite the current studies on parabens there is no consensus in the scientific community as to whether or not the chemicals are safe.
The CDC, FDA, along with several health organizations including the American Cancer Society, and industry leaders say, "human health effects from environmental exposure to low levels of parabens are still unknown." However these organizations adhere to the current consensus that parabens' effect on health, including cancer risk, is due to much more than estrogen mimicry.
The FDA goes so far as to say "at the present time there is no reason for consumers to be concerned about the use of cosmetics containing parabens."
The position taken by these groups is unlikely to change until new studies become available that present a stronger correlation between parabens and adverse health effects.
In the meantime, if you're concerned about parabens, you can reduce your exposure by choosing products that are paraben-free. If you aren't sure the product contains parabens, check the label.
Parabens are usually easy to identify by name. Methylparaben, propylparaben, butylparaben, or benzylparaben are among the most common.
In part 2 we'll look at how everyday chemicals affect female infertility and what you can do to increase the odds if you are trying to get pregnant.
Lynette Summerill is an award-winning writer and Scuba enthusiast who lives in San Diego with her husband and two beach loving dogs. In addition to writing about cancer-related issues for EmpowHER, her work has been seen in publications internationally.
Sources:
Parabens. CDC Fact Sheet. Accessed at:
http://www.cdc.gov/biomonitoring/Parabens_FactSheet.html
Parabens. FDA Fact Sheet. Accessed at:
http://www.fda.gov/cosmetics/productandingredientsafety/selectedcosmeticingredients/ucm128042.htm
"Antiperspirants and Breast Cancer Risk." American Cancer Society.
http://www.cancer.org/cancer/cancercauses/othercarcinogens/athome/antiperspirants-and-breast-cancer-risk
"Parabens in Breast Tissue Not Limited to Women Who Have Used Underarm Products." Science Daily. Jan. 11, 2012. [Darbre studies]
http://www.sciencedaily.com/releases/2012/01/120111223348.htm
Parabens in Male Infertility. Is there a mitochondrial connection? Renata S. Tavares, Fátima C. Martins, Paulo J. Oliveira, João Ramalho-Santos, Francisco P. Peixoto Reproductive Toxicology Volume 27, Issue 1, Pages 1-92 January 2009. Subscription require.
http://www.sciencedirect.com/science/journal/08906238/27/1
http://www.sciencedirect.com/science/article/pii/S0890623808002682
"Puberty Before Age 10: A New 'Normal'?". Weil, Elizabeth March 30, 2012. The New York Times.
http://www.nytimes.com/2012/04/01/magazine/puberty-before-age-10-a-new-normal.html?pagewanted=all
Interview. Dr. Samuel Wood, MD, PhD, Reproductive Sciences Center and Genetics Institute, Medical Director, La Jolla, CA Fertility and reproductive endocrinology treatment and research center. August 15, 2013.
"An Earlier Age of Breast Cancer Diagnosis related to more frequent use of antiperspirants,/deodorants and underarm shaving." KG McGrath. European
Journal of Cancer Prevention 2003,12:479–485. Paper at:
http://terranaturals.com/pdf/mcgrath_full.pdf
Reviewed August 28, 2013
by Michele Blacksberg RN
Edited by Jody Smith
Tags: