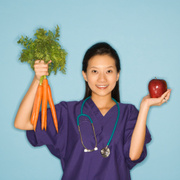 Hemera/Thinkstock
As the health library at Johns Hopkins Medicine notes, "There are just as many causes of bad breath as there are sources of bacteria in the mouth."
Okay, so that points to countless possibilities behind halitosis. If you think it's a problem for you, do you dare open your mouth to ask your health care practitioner about it?
Yes, you should, because beyond the usual culprits of dental issues, a smoking habit and offending foods, you might find that consistent bad breath actually stems from a medical condition.
In about 10 percent of bad-breath cases, the troublesome odors are not directly related to your mouth, says the Mayo Clinic.
Instead, the possibilities include:
-- Gastroesophageal reflux disease, or the chronic backup of acids between your stomach and esophagus
-- Diabetes, which can sometimes cause a fruity breath odor from chemicals called ketones
-- Lactose intolerance, which might also present itself with diarrhea or headaches
-- Liver, pancreas or kidney problems
Other causes of bad breath might be tied to infections in the respiratory system, some cancers or metabolic disorders. Certain medications create bad breath after their chemical breakdown in the body.
Also, there are medications that cause dry mouth, which in turn can cause bad breath. Dry mouth, or xerostomia, occurs when saliva production is low and the mouth can't cleanse itself as usual to remove food debris. Sometimes dry mouth patients have a salivary gland disorder or have trouble breathing through the nose.
Remember that the mouth is the first stop in the long journey of digestion, and as such, it can often reveal information about digestive tract problems.
A dentist or hygienist might be the first person who can ascertain the reason behind your halitosis. Perhaps it's poor flossing and brushing, improper cleaning of dentures or periodontal disease.
Just be aware that seeing the family doctor might be your next course of action if the problem is not related to the food and beverages you've recently consumed, tobacco or dental issues.
And if you are practicing good oral hygiene yet still experiencing bouts of bad breath, you might want to heed this advice from two dentists writing in the June 2012 issue of WebMD's digital magazine:
-- Eat raw carrots, apples, celery and the like for their mouth-cleansing ability.
-- Drink water or milk to help remove bacteria and debris.
-- Reduce alcohol intake.
-- Chew sugarless gum to promote saliva flow.
Dentists Tina Frangella and John Woodall added in the article that breath mints are only a temporary fix.
Sources:
"Bad breath." Mayo Clinic. Web. 20 June 2012.
http://www.mayoclinic.com/health/bad-breath/DS00025/DSECTION=causes
"Halitosis (Bad Breath)." Johns Hopkins Medicine. Web. 20 June 2012.
http://www.hopkinsmedicine.org/healthlibrary/conditions/adult/oral_healt...
"Heaven Scent? Good news for bad breath: It's easy to fix." WebMD, the Magazine (digital edition). June 2012.
Lipski, Elizabeth. "Digestive Wellness." New York: McGraw Hill, 2012. pps. 77, 203-4.
Reviewed June 21, 2012
by Michele Blacksberg RN
Edited by Jody Smith
Tags: