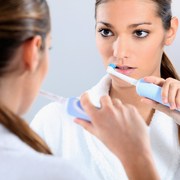 Auremar/PhotoSpin
The American Dental Association calls biofilms "microscopic communities". This may not sound too bad until you realize that these communities consist of naturally occurring water bacteria and fungi.
These communities are ambitious, extending thin layers over every surface they can reach.
The American Dental Hygienists' Association describes biofilm as "a complex, communal, 3-dimensional arrangement of bacteria".
Dental plaque biofilm is a major concern for dental health practitioners.
Biofilms are not only found on the teeth and gums. They are just about everywhere.
They make themselves at home in many locations on the human body. They show up on the external surfaces of the eye, on the surfaces of the teeth, on the tongue, and throughout the oral cavity.
They can cause infections and are linked with prostatitis, osteomyelitits, and with pneumonia in cystic fibrosis patients. Biofilm can appear as supragingival and subgingival plaque, which play a role in the formation of dental cavities and the emergence of periodontal diseases.
A biofilm offers protection to bacteria, as its slimy extracellular matrix covers the microbial community. Antibiotics, antiseptics and chemotherapeutic agents are limited in their abilities to penetrate the matrix and eliminate the bacteria.
Saliva and gingival creviular fluid will not flush the bacteria away. Only antiseptics that are specifically made to penetrate the plaque matrix can attack the bacteria.
Biofilm grows and develops in four stages. These stages are initial adherence, lag phase, rapid growth, and steady state.
Initial adherence binds bacteria to the surface of a tooth. Salivary components called acquired pellicle, is deposited on surfaces of the teeth. Between the pellicle, as well as proteins and peptides from the salivary glands, biofilm is able to form more easily.
Lag phase involves changes in genetic expression, also called phenotypic shifts. Bacterial growth lags.
Rapid growth manufactures an exopolysaccharide biofilm matrix. Microcolonies grow. Over time, more kinds of bacteria stick to the early colonies. This is called coaggregation. This, along with further cell division, will contribute to the growing thickness of the biofilm.
Steady state involves the biofilm growth slowing down or stopping. Bacteria in the deeper levels show signs of death though bacteria closer to the surface does not deteriorate. Crystals in the matrix seem to represent initial calculus mineralization.
Then surface detachment and sloughing happen, and new bacteria appears. Some bacteria will move on to create new biofilm colonies.
Being exposed to these toxins does not necessarily mean that you will become ill. Your risk becomes greater though if you have a compromised immune system which can make it harder to fight off the effects of toxins.
Dental biofilm can't be completely eliminated but it can be kept under control.
Brushing your teeth every day, cleaning between teeth by flossing, using mouthwashes approved with the ADA Seal of Acceptance can all help, according to the American Dental Hygienists' Association website. And of course, seeing your dentist regularly will help to protect your teeth from damage caused by biofilms.
Sources:
What are Biofilms?
http://www.ada.org/2756.aspx
The Role of Dental Plaque Biofilm in Oral Health
http://adha.cdeworld.com/courses/20009
Visit Jody's website and blog at http://www.ncubator.ca and http://ncubator.ca/blogger
Reviewed March 12, 2013
by Michele Blacksberg RN
Tags: