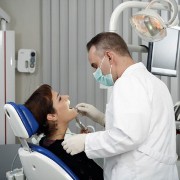 Photo: Getty Images
Have you ever dreamed of a world where cavities could be magically repaired, without drilling and Novocain?
Someday, in the not too distant future, a tooth regeneration gel could replace some fillings in cavities. The gel would encourage cells in the teeth to regenerate in about a month.
French scientists are currently testing the possibility of using a gel to repair tooth decay and their research appears to suggest that the cells within the tooth are able to repair themselves. Using a biomaterial with the ability to regenerate bone, the scientists believe it will be possible to heal cavities from the inside.

In theory, a dentist would administer the gel, which forms a thin film over the tooth. The gel, a peptide, contains a melanocyte-stimulating hormone (MSH) which would help it heal from within. Research has shown that MSH encourages regeneration. This could eventually reduce the need for filling in some cavities.
In the study they applied the gel to the teeth of mice that had cavities. After approximately a month the cavities were entirely gone. Further studies are being conducted before treating cavities in humans using this method.
The researchers during their study used PAG-a-MSH, a combination of poly-l-glutamic acid (PGL) and alpha-MSH. "Our results indicated early that, by using PGA-a-MSH we increase not only the viability of cells but also proliferation," said Jessel.
The current treatment for cavities is drilling into the tooth, removing the decay and then filling in the hole. Cavities and drilling can eventually destroy blood vessels and nerves inside a tooth.
Jessel clarified that although this process may work on some cavities a good majority of cavities will still have to be removed and filled in the old fashioned way.
Source: http://news.discovery.com/tech/tooth-regeneration-gel.html
Tags: