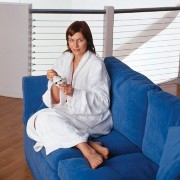 Photo: Getty Images
As an old commercial used to ask, "Do you suffer from chronic halitosis?" Halitosis is better known as bad breath, which can be caused by acid residing anywhere between the mouth and stomach including the back of the throat and the esophagus.
A Woman's Day article found on Yahoo! Health online stated that yogurt can help neutralize these acids and help fight bad breath. While it would have virtually no effect on mouth acids on the tongue, it could help those stemming from the stomach such as that found in acid reflux. Pretty handy stuff, isn't it? This added usefulness for yogurt comes in addition to helping preserve good flora in your digestive tract, and warding off infections in the bladder.
Also note that if you have chronic halitosis that's caused by gum, liver, or lung disease, you would need to see your dentist about that. And hopefully you would also see your general practitioner as needed to rule out medical reasons for your bad breath.
Do you have a question about dental health, or home remedies? Check out EmpowHER's pages. Sign-up, post a question, share your story, connect with other women in our groups and community, and feel EmpowHERed!
Resource:
Woman's Day: 7 Home Remedies that Actually Work
EmpowHER: Bad Breath: Not Just Dietig, Wine or Onion Rings
Christine Jeffries is a writer/editor for work and at heart, and lives in a home of testosterone with her husband and two sons. Christine is interested in women's health and promoting strong women.