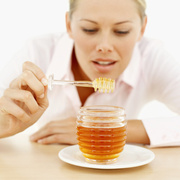 George Doyle/Stockbyte/Thinkstock
Lollipops, jellybeans, gummy bears, and double caramel blended lattes ... the list of sugary teeth-offenders can go on and on.
It is no secret that sweets cause cavities, but recent studies may have found that one sweet and gold-colored favorite isn't as bad as some may think.
Honey has been used throughout history for a wide selection of uses. Not only to sweeten foods and in the creation of make up, but also to treat diseases and infections, because it produces hydrogen peroxide as a byproduct.
One type of honey in particular has left scientists and dentists alike buzzing with excitement over the potential of this honey to be used to prevent some dental issues.
The reason for this excitement is the discovery that Manuka honey, which is honey made in New Zealand and Australia, may have the ability to prevent cavities and plaque, because of its antibacterial nature.
While not all honeys have the equal levels of cavity and plaque-fighting abilities, it was noted that Manuka honey samples "were found to still have significant antibacterial activity - a non-peroxide antibacterial activity" after the hydrogen peroxide element in honey was removed in lab tests performed by Associate Professor in Biochemistry at The University of Waikato, Hamilton, New Zealand, Dr. Peter Molan.
In The Honey Prescription: The Amazing Power of Honey As Medicine, written by Nathaniel Altman, Dr. Molan's research was mentioned again. He "discovered that honey not only stops the growth of bacteria found in dental plaque, but it also reduces the amount of acid produced."
Bacteria are inhibited from producing the glue (dextrin) that allows them to stick to teeth, and thus can prevent plaque from forming because bacteria have nothing to stick to.
These finding are supported by an article published in The Journal of Innovative Dentistry in 2011 entitled "Efficacy of honey to promote oral wellness", in which the positive effects of honey are discussed.
"Candy made with honey may also be useful for prevention of halitosis, as according to Molan honey has been observed to give rapid removal of malodour from infected wounds," according to the same study. But don't reach for that bag of honey-flavored candies quite yet.
Manuka honey may be a healthier option for your teeth than sugar, but as with any other food, it should still be consumed in moderation. In addition, you should still schedule regular dental check ups and cleanings.
Sources:
ANTIBACTERIAL EFFECT OF HONEY. J.H. DUSTMANN. 1979. Retrieved June 7, 2012.
http://www.apimondiafoundation.org/foundation/files/1979/J.H. DUSTMANN.pdf
University Research Confirms Honey as a Healer. Manukahoney.com. Retrieved June 7, 2012.
http://manukahoney.com/resources/research/research01.html
The Honey Prescription: The Amazing Power of Honey As Medicine By Nathaniel Altman. Retrieved June 7, 2012.
http://books.google.com/books?id=hVesQl4EBbgC&pg=PA133&lpg=PA133&dq=does...
Gupta N.1, Kathuria N.2, Gulati M.3. Efficacy of honey to promote oral wellness.
Journal of Innovative Dentistry, Vol 1, Issue2, May-August 2011.
Retrieved as a downloaded PDF June 7, 2012.
Reviewed June 8, 2012
by Michele Blacksberg RN
Edited by Jody Smith