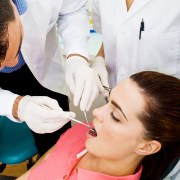 Photo: Getty Images
Very few U.S. retirees have dental insurance today. Without coverage from traditional Medicare, and with private dental insurance typically costing too much to be feasible, most seniors are stuck paying full out-of-pocket prices every time they visit a dentist. While there's no one simple solution to affordable dental care, there are a variety of options that can help cut your costs.
Dental Discounts: One way you may be able to trim your dental-care cost is by simply asking your dentist for a senior discount, especially if you're paying up front. Out-of-pocket payers save the dentist office the cost and hassle of filing an insurance claim, so asking for a small 10 to 20 percent discount is not unreasonable.
Another cost-effective way to reduce your dental expenses is to join a dental discount network. How this works is you pay an annual membership fee – roughly $80 to $200 a year – in exchange for 15 to 50 percent discounts on services and treatments from participating dentists. To find a network, go to Careington.com (or call 800-400-8789) where you can search for plans and participating dentists by zip code, as well as get a breakdown of the discounts offered.
Brighter (866-893-1694), which launched in May in all states except Florida, Montana, and Vermont, is another discounted dental service to check out. It gives subscribers access to a network of 25,000 dentists offering 20 to 60 percent discounts on cleanings, crowns, implants, root canals and other procedures. You can sign up for a free one-month plan or opt for the premium plan, which costs $79 per year for individuals and families.
Low-Cost Care: Another way to get dental care at a lower price is at a dental school clinic. Almost every dental school in the U.S. offers affordable care provided by dental students who are overseen by experienced, qualified teachers. You can expect to pay as little as a third of what a traditional dentist would charge and still receive excellent, well-supervised care.
And for low-cost teeth cleanings, check with local colleges that offer dental hygiene programs. For training purposes, many programs provide teeth cleanings by their students for a fraction of what you'd pay at a dentist's office. To locate dental schools or dental hygiene programs in your area visit www.ada.org/267.aspx.
Low Income Care: If you're strapped for cash there are other resources that provide dental care to seniors at a reduced rate or for free. Here's where to look:
Health centers: Federally-funded by the Health Resources and Services Administration (HRSA), there are thousands of health centers around the U.S., many of which provide discounted or free dental care to people based on financial need. To find a center near you visit http://findahealthcenter.hrsa.gov/Search_HCC.aspx or call 877-464-4772.
Local services - There are a few states, as well as some local programs or clinics, that offer discounted dental care to those with limited means. To find out what may be available in your area, check with your state dental director (see astdd.org for contact information), or your state or local dental society (see ada.org/statelocalorg.aspx).
To learn more or to apply for care in your state, call 888-471-6334.
Resources
http://bit.ly/feRCrs
http://www.nfdh.org
http://www.brighter.com
Reviewed August 1, 2011
by Michele Blackberg R.N.
Edited by Shannon Koehle