We've come a long way in dealing with mental health since the days of lobotomies and electric shock.
Mental health is regularly discussed in health classes, and researchers have a better understanding of mental health disorders. However, such progression toward openness can contribute to the glorification of, for example, depression.
Depression is not Kristen Dunst in "The Virgin Suicides". Depression does not equate with being dreamy, beautiful and interesting.
Depression also is not a synonym for sadness; it's so much more.
In 2015, approximately 16.1 million adults had at least one major depressive episode in the past year, compared to the 3 million youths age 12 to 17.
If you have never experienced depression it can be hard sometimes to understand. If we listen and try we can help our friends and family and destigmatize this illness.
Social media has been an outlet that gives people the option to express their feelings due to depression, and the opportunity for the rest of us to listen, understand and reach out. On Thursday, #DepressionIsNot started trending.
Like the world, social media can be toxic. If you have depression, be sure to take caution when navigating certain tags and groups to avoid triggers.
Here are ten tweets that capture what it is like to have depression:
1.

2.
3.
4.

5.

6.

7.

8.

9.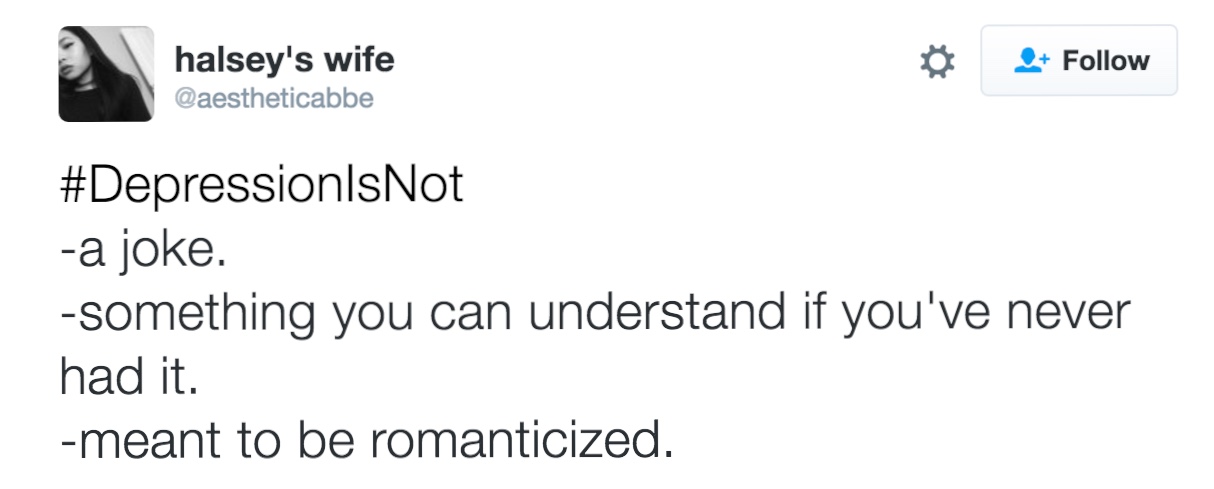 10.
And here's something to always remember:

Edited by Chelsea Shannon
Read more in Being HER
Article Sources
1. Major Depression Among Adults. National Institute of Mental Health. Retrieved October 27, 2016. https://www.nimh.nih.gov/health/statistics/prevalence/major-depression-among-adults.shtml
2. Major Depression Among Adolescents. National Institute of Mental Health. Retrieved October 27, 2016. https://www.nimh.nih.gov/health/statistics/prevalence/major-depression-among-adolescents.shtml