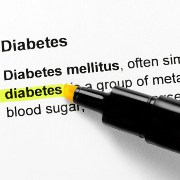 Photo: Getty Images
For people who have type 2 diabetes, there is some good news. The U.S. FDA has just approved the drug Bydureon for the control of blood sugar.
Bydureon can only be administered by injection once a week. It is not a novel drug because its closest competitor, Victoza, has been around for several years already. Victoza is another drug for type 2 diabetes that is injected once a day.
Bydureon has been in the news for several years but its use in the United States was previously declined by the FDA because of concerns regarding its ability to induce abnormal heart rhythms. However, a recent study performed by the manufacturer of the drug, Amylin, revealed that this was not the case. (1)
Bydureon is expected to be a blockbuster drug for many type 2 diabetics because of the ease of dosing: once a week by self-injection. This is far better than taking multiple medications or insulin injections many times a day. Moreover, this also eliminates the need for frequent blood sugar checks.
One of the biggest obstacles for better outcomes in diabetics has been compliance with therapy. This once-a-week injectable medication is bound to make control of blood sugar relatively easy as well as improve the quality of life. The other benefit of the drug is that it also induces weight loss.
Bydureon is a GLP-1 receptor agonist and mimics the actions of a glucagon-like peptide that induces insulin release when blood sugar becomes elevated. However, consumers should note that Bydureon also has some negatives.
Unlike Victoza, its blood-lowering efficacy is not as great. Further, preparation of the drug for injection is cumbersome and also requires a larger needle.
There is also concern that the drug may cause pancreatitis, increase risk for thyroid cancer and affect the heart. Current trials are ongoing to evaluate the drug further. (2)
A month's supply of Bydureon is expected to cost about $330 - $350.
Metformin, which is an excellent drug for type 2 diabetes, has been around for decades. It also induces weight loss and costs about $10 - $35 a month but it has to be taken once or twice a day.
Remember when it comes to medications, new is not always better. When manufacturers conduct their own trials, some negatives are usually not mentioned.
Sources:
1. Wall street Journal. FDA Approves Amylin's Bydureon Diabetes Drug. Retrieved Jan. 29, 2012. abstract: http://online.wsj.com/article/SB10001424052970204573704577187600650286634.html
2. FDA approves Bydureon. Retrieved Jan. 29, 2012. http://www.drugs.com/bydureon.html
3. Victoza. Retrieved Jan. 29, 2012.
http://www.victoza.com
Reviewed January 30, 2012
by Michele Blacksberg RN
Edited by Jessica Obert
Tags: