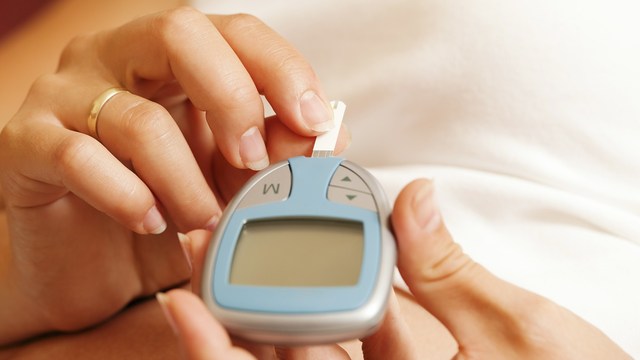 MonkeyBusiness Images/PhotoSpin
It should come as no surprise that the Centers for Disease Control and Prevention has found that 40 percent of Americans will eventually get type 2 diabetes. Many of us are guilty of overeating, being overweight, making dangerous nutritional choices, and not getting enough physical exercise.
"Diabetes remains the 7th leading cause of death in the United States in 2010, with 69,071 death certificates listing it as the underlying cause of death, and a total of 234,051 death certificates listing diabetes as an underlying or contributing cause of death," according the American Diabetes Association.
Diabetes comes in two forms: type 1 and type 2.
EmpowHER describes type 1 as developing when the body does not make enough insulin. Insulin is a hormone that helps your body convert food into energy.
Without insulin, glucose (sugar) from the food you eat cannot enter cells. So glucose builds up in the blood. Your body tissue becomes starved for energy.
Type 1 diabetes usually begins during childhood and young adulthood. Over the long-term, if type 1 diabetes is not adequately treated, high blood sugar levels can damage the blood vessels, heart, kidneys, eyes, nerves, and other tissues or organs.
There is no way to prevent type 1 diabetes. Type 2, however, is another story.
Most of us know someone who has type 2 diabetes, or we have it ourselves. More than 90 percent of cases are type 2 diabetes. Type 2 occurs when the body can't make enough insulin or the insulin that is formed does not work properly, causing problems with our blood sugar.
In a nutshell, most cases come from overeating, being overweight, making unhealthy dietary choices, and not getting enough physical activity.
The study by the CDC looked at diagnosed cases between the years of 1985 and 2011 and also checked death certificates for causes of death. Taking these statistics and looking at continued cases, they found that over a period of 26 years, 40 percent of us are likely to develop type 2 diabetes. Some of us will have received a diagnosis, and some of us will have it without knowing it.
Hispanic and black women as well as Hispanic men face an increased risk. Their chances are now at about 50 percent.
Education about type 2 diabetes is very important, said Dr. Edward Gregg, chief of the Epidemiology and Statistics Branch, Division of Diabetes Translation at the CDC. A dramatic change in lifestyle is necessary because healthy care costs will escalate. Prevention, Gregg notes, is the ultimate goal.
Some positive elements were also found in the study. For instance, death from diabetes is less common than it used to be.
It's also encouraging to note that the vast majority of type 2 cases are preventable.
We can lessen our risk to a huge degree by eating non-processed foods as much as possible. Emphasize fresh, live foods instead, as well as lean proteins, fiber and other vitamins and minerals that come together to form a healthy body. Keeping sugars, fats and salts down is important.
Exercise is also a key factor. We all need to move our bodies and break a sweat as much as we can.
Exercising for at least an hour every other day is all we need to keep our bones and muscles strong. If an hour isn't possible, then 30 minutes of challenging cardio at least 5 days a week will do our bodies enormous favors now, as well as in the future.
And for those of us living currently with type 2 diabetes? We can reverse our bad fortune by taking our prescribed medications, exercising, really watching what we eat, and losing weight.
Losing excess weight, eating better, making healthier choices, are all tools we can use to completely reverse our diagnosis and be diabetes-free for life. Many have accomplished this and those living with type 2 now can too.
You can work with a doctor, or read up on proper nutrition. There is no need to hire a nutritionist but if you have the money and your insurance covers it, go for it. Common sense and some good books are all that's really needed.
Walking is free and once given the go-ahead by our health care provider, we need to really push that stroll into a power walk. Along with exercise, smaller portions of healthy foods is almost certain to guarantee that the fat will come off.
It may be a drawn-out process for those with a lot of excess weight but it can certainly be done. Good things take time!
A diabetes support group can also help to inspire a healthier life. Don't let a preventable and curable disease become your life. You are not your diabetes.
Sources:
EmpowHER.com. Diabetes. Diabetes Type 1.
https://www.empowher.com/media/reference/type-1-diabetes
Medical News Today. Diabetes. Public Health. "40% of American adults will develop type 2 diabetes in their lifetime".
http://www.medicalnewstoday.com/articles/280943.php
Statistics About Diabetes. Data from the National Diabetes Statistics Report, 2014 (released June 10, 2014)
http://www.diabetes.org/diabetes-basics/statistics/#sthash.sMVIcGiH.9vfL...
Reviewed September 29, 2014
by Michele Blacksberg RN
Edited by Jody Smith