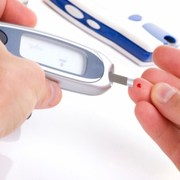 iStockphoto/Thinkstock
Millions of people take omega-3 fatty acids to prevent illness and maintain good health. The manufacturers of these health supplements also encourage these products for diabetic patients to help reduce the risk of heart disease or stroke.
For the past few years, a lot of data has been published about the benefits of omega-3 fatty in nondiabetic patients. However, there is a dearth of data on the benefits of these supplements in type 2 diabetics.
Now a large study reveals that taking omega-3 fatty acids as a type 2 diabetic patient does not lower one's risk of a stroke or heart attack.
This large study was sponsored by a pharmaceutical company, Sanofi, which makes insulin supplies.
In this study, 12,500 patients who were diabetic or prediabetic took 900 mg of omega-3 fatty acids daily and were followed for an average of six years. The average age of patients was 64 and more than 50 percent of participants were men.
The results showed that the supplement of 1 gm a day had no benefit in terms of reducing the risk of heart disease. Although some patients did have a drop in their lipid levels, this did not lower the rate of stroke or heart attacks.
Some experts have argued that the study did not show any benefit because the dose of omega-3 fatty acids was too low. However, the dose selected was the same dose previous studies had shown to be of benefit.
In the past, there have been many epidemiological studies that have shown a link between people who eat fish or take omega-3 fatty acid supplements and a lowered risk of heart disease.
However, most of the previous studies were not randomized and some were sponsored by the manufacturer of the health supplement.
So what should consumers do?
In my opinion, omega-3 fatty acids are relatively safe and there is no harm in taking them. While these supplements can lower lipids, their overall clinical benefits appear to exaggerated.
It should be understood that reliance on one health supplement or a drug is not the best way to lower risk of heart disease or stroke. To maintain good overall health, people should start to eat healthy, watch their weight, discontinue smoking and exercise regularly.
Sources:
1. Djousse L. Fish consumption, omega-3 fatty acids and risk of heart failure: A meta-analysis. Clin Nutr. 2012 Jun 6. [Epub ahead of print]
Abstract: http://www.ncbi.nlm.nih.gov/pubmed/22682084
2. n–3 Fatty Acids and Cardiovascular Outcomes in Patients with Dysglycemia. New England Journal of Medicine. June 11, 2012.
Abstract: http://www.nejm.org/doi/full/10.1056/NEJMoa1203859?query=featured_home
Reviewed June 13, 2012
by Michele Blacksberg RN
Edited by Diderique Konig
Tags: