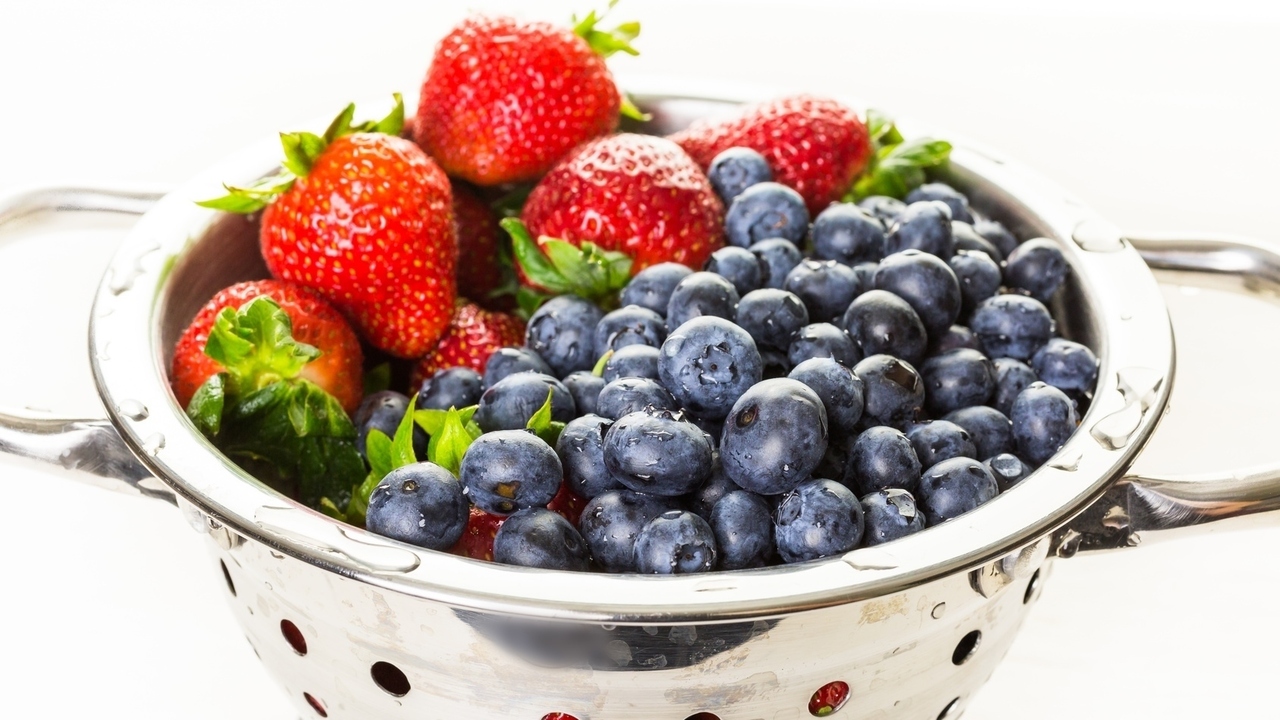 arinahabich/Fotolia
Most people love to eat fruit. But when you are a diabetic, eating fruit can be hard because sugar found in fruits can raise blood sugar levels. Here are fruits that research has shown to appropriate for diabetics.
Strawberries
Strawberries are considered to be low on the glycemic Index coming below 50 on the scale, according to Optimalfoods.org. The fiber contained in strawberries keep blood sugar levels from getting too high by keeping you full longer.
In addition, the polyphenols found in strawberries may slow down the release of simple carbohydrates so that less insulin is needed and better blood sugar control is maintained.
Cherries
Cherries have a phytonutrient called anthocyanin. A 2014 study published in the Journal of Nutrition showed that diets that are high in anthocyanins showed improvement in insulin resistance. This helps to control blood sugar levels, according to the U.S. National Library of Medicine, National Institutes of Health.
Blueberries
Blueberries are considered to be low on the GI scale. They are still higher than other berries like blackberries, raspberries and strawberries, but they still are better options than many other fruits.
A study reported in Whole Foods.com looked at eating berries, including blueberries, three times per week for a three-month period. People who did this showed an improvement in their blood sugar levels. Blueberries are a good source of soluble fiber, so they are acceptable fruits for diabetics to eat. They also have anthocyanins which improve insulin resistance as noted above, and also inhibit digestive enzymes that slow down blood sugar spikes after starchy meals.
Avocado
Yes, avocado is a fruit. It is high in polyunsaturated fat called monounsaturated fatty acids (MUFAs). Foods that are high in fat do not raise blood sugars in the same way that foods high in carbohydrates do. Health line.com reported that MUFAs have been shown in studies to decrease metabolic syndrome. Ciabetes is one of the illnesses included in that syndrome. So avocados are a great fruit to eat as a snack, or in a smoothie for breakfast.
Combining Blueberries, Grapes and Apples
Harvard T.H. Chan School of Public Health reported on three studies: the Nurses' Health Study, the Nurses' Health Study II, and the Health Professionals Follow-up Study. Findings were that greater consumption of whole fruits resulted in lower risk for type 2 diabetes. They found that especially blueberries (yes blueberries again) along with grapes and apples were most beneficial.
Live Vibrantly!
Dr. Dae
Dr. Dae's website: www.healthydaes.com
Dr. Dae's book: Daelicious! Recipes for Vibrant Living can be purchased @ www.healthydaes.com
Dr. Dae's Bio:
Dr. Daemon Jones is your diabetes reversal, hormones, metabolism and weight loss expert. Dr. Dae is a naturopathic doctor who treats patients all over the country using Skype and phone appointments. Visit her or schedule a free consultation at her website, www.HealthyDaes.org
Sources:
Blueberries. Whfoods.com Nov. 5, 2015.
http://www.whfoods.com/genpage.php?tname=foodspice&dbid=8
Can I Eat Fruit if I Have Diabetes?. WebMD.com. November 5 2015. http://www.webmd.com/diabetes/features/fruit-and-diabetes.
http://www.healthline.com/health-slideshow/foods-lower-blood-sugar#5
Vegetables and Fruits. Harvard T.H. Chan School of Public Health Newsletter. Nov 5. 2015.
http://www.hsph.harvard.edu/nutritionsource/what-should-you-eat/vegetables-and-fruits
Foods That Lower Blood Sugar. Healthline.com Nov. 5, 2015.
http://www.healthline.com/health-slideshow/foods-lower-blood-sugar#6
Reviewed November 6, 2015
by Michele Blacksberg RN
Edited by Jody Smith
Read more in Diabetes Health Center