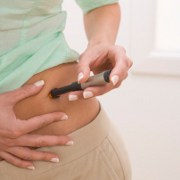 Photo: Getty Images
Entertainer Dale Evans Rogers said, "Life is not over because you have diabetes. Make the most of what you have, be grateful."
According to the National Institute of Diabetes and Digestive and Kidney Diseases (NIDDK) more than eight percent of the U.S. population, or 25.8 million people, is affected by diabetes. Unfortunately, more than seven million people are walking around undiagnosed with diabetes. Also, the NIDDK stated that diabetes is the seventh leading cause of death in the U.S.
Diet is one of the key factors in managing diabetes. The American Diabetes Association lifted the sugar ban for diabetics in 1994. According to Diabetic Cooking Magazine, ʺthe total amount of carbs eaten is the most important factor in a diabetic's diet, not the source.ʺ Also, Diabetic Cooking Magazine stated ʺtoday's dietary guidelines are based on scientific research that carbohydrates in the form of sugars do not raise blood sugar levels more rapidly than other types of carbohydrate-containing food.ʺ
EmpowHER.com has provided some diabetic diet resources. These sites offer everything from recipes, nutritional tips, ingredient swapping and even how to save money on food.
dLife Magazine has a section titled ʺWhat Can I Eat?ʺ at http://www.dlife.com/diabetes-food-and-fitness/what_do_i_eat/meal_planning.
The section offers six sub-categories:
• carb management
• sugars & sweeteners
• eating out
• menu planning
• fats
• nutritional news
The section Menu Planning offers a plethora of information from grocery shopping, healthy holiday recipes, and even the latest in nutritional news. For example, there is an article on the best cooking oils at
http://www.dlife.com/diabetes-food-and-fitness/what_do_i_eat/meal_planning/10_best_cooking_oils
and another article regarding the truth about sugar substitutes at http://www.dlife.com/diabetes-food-and-fitness/what_do_i_eat/sugars_and_sweeteners/scoop_on_sugar_substitutes.
The website Diabetic Cooking offers more than 830 recipes for diabetics at http://www.diabeticcooking.com/DCFinder/DCSearchlists/313.htm. Also, the main page offers some great health tips like picking the right cheese. The recipes are based on the dietary guidelines developed by the United States Department of Health and Human Services and the United States Department of Agriculture.
Allrecipe.com http://allrecipes.com/recipes/healthy-recipes/diabetic/top.aspx also offers their top 20 diabetic recipes. The recipes range from salads, desserts to healthy snacks.
Here are some additional sources available regarding nutrition and diabetes:
If you are in need of assistance with your diet and you want to locate a diabetes teacher in your area, contact the American Association of Diabetes Educators at 1.800.TEAMUP4 or 1.800.832.6874 or go to http://www.diabeteseducator.org/DiabetesEducation/Find.html.
To find a diabetes education program in your area, contact the American Diabetes Association at 1.800.DIABETES or 1.800.342.2383 or click on the following link http://professional.diabetes.org/ERP_List.aspx.
Finally, to locate a registered dietitian in your area, call the American Dietetic Association's National Center for Nutrition and Dietetics at 1.800.877.1600 or go to http://www.eatright.org/programs/rdfinder.
Feel free to add your favorite diabetic diet resources in our comments section.
Sources:
Dale Evans Biography > Actors & Actresses > Real People, Real Stories > Everything Diabetes. Diabetes | Type 1 Diabetes | Type 2 Diabetes. Retrieved August 9, 2011 from
http://www.dlife.com/diabetes/famous_people/actors_actresses/dale_evans
National Diabetes Statistics, 2011 - National Diabetes Information Clearinghouse. National Diabetes Information Clearinghouse Home. Retrieved August 9, 2011 from
http://diabetes.niddk.nih.gov/dm/pubs/statistics
What I need to know about Eating and Diabetes - National Diabetes Information Clearinghouse. National Diabetes Information Clearinghouse Home. Retrieved August 9, 2011 from
http://diabetes.niddk.nih.gov/dm/pubs/eating_ez/#info
Diabetic Recipes - Allrecipes.com. Allrecipes.com - recipes, menus, meal ideas, food, and cooking tips.. Retrieved August 9, 2011 from http://allrecipes.com/Recipes/healthy-recipes/diabetic/main.aspx
Know Your Numbers. National Institute of Health. Retrieved August 9, 2011 from
http://www.ndep.nih.gov/media/KnowNumbers_Eng.pdf
Reviewed August 10, 2011
by Michele Blacksberg R.N.
Edited by Jody Smith