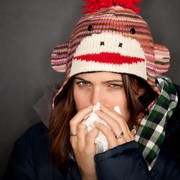 Scott Griessel - Creatista/PhotoSpin
School has been back in session and the first seasonal colds are beginning to appear in classrooms. As a person living with type 1 diabetes, I was reminded forcibly how these colds can wreak havoc on my blood glucose (BG) control.
I learned all the "sick day" rules when I was a kid. As a woman and a mom, I don't have time to be sick. A reminder of the sick day rules could be beneficial.
When sick, the body attempts to fight it. The body releases hormones that increase insulin resistance. This means that usually the BG raises inducing hyperglycemia.
However, if nausea, vomiting and diarrhea are involved, there is a chance that the BG can fall inducing hypoglycemia.
Check BG levels more frequently during a sick day. Drinking plenty of fluids is essential.
For people with diabetes, this can actually help flush out the sugar and ketones in the blood.
Additional insulin or medication might need to be given. Be aware of hidden sugars in over-the-counter medications.
The American Diabetes Association recommends that you "prepare a plan for sick days in advance. Work with your doctor, or a diabetes educator. The plan will include when to call your diabetes team, how often to measure blood sugar and urine ketones, what medicines to take, and how to eat. Also, attach to your plan a list of phone numbers for your doctor, diabetes educator, and dietitian.
You do not need to call your team every time you have a sniffle. But you will probably want to call if certain things happen. For example:
• "you've been sick or have had a fever for a couple of days and aren't getting better
• "you've been vomiting or having diarrhea for more than 6 hours
• "you have moderate to large amounts of ketones in your urine
• "your glucose levels are higher than 240 even though you've taken the extra insulin your sick-day plan calls for
• "you take pills for your diabetes and your blood sugar level climbs to more than 240 before meals and stays there for more than 24 hours
• "you have symptoms that might signal ketoacidosis or dehydration or some other serious condition (for example, your chest hurts, you are having trouble breathing, your breath smells fruity, or your lips or tongue are dry and cracked)
• "you aren't certain what to do to take care of yourself
"Be ready to tell what medicines you've taken and how much, how long you've been sick, whether you can eat and keep food down, whether you've lost weight, and what your temperature, blood sugar level, and urine ketone level are. To be prepared, keep written records of all these things as soon as you become sick."
By Marianne Tetlow "The Diabetes Coach"
The Diabetes Coach is a comprehensive resource and consulting group for individuals or families with a loved one dealing with diabetes. "Helping You To Move Forward While Managing the Ups and Downs"
www.diabeteslifestylecoach.com
Sources:
"When you're sick" web. The American Diabetes Association. www.diabetes.org September 16, 2012
http://www.diabetes.org/living-with-diabetes/treatment-and-care/who-is-o...
"Managing Sick Days" web. The Juvenile Diabetes Research Foundation. www.jdrf.org September 16, 2012
http://www.jdrf.org/index.cfm?page_id=111104
Reviewed September 24, 2012
by Michele Blacksberg RN
Edited by Jody Smith