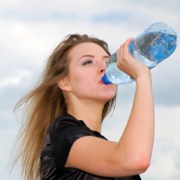 Photo: Getty Images
The term diabetes insipidus refers to inability to retain fluid. Diabetes insipidus, commonly known as DI, is a rare disorder where a person has increased thirst and excessive urination. This condition is mainly caused by the failure of the body to produce and release a very important fluid regulating hormone called Vasopressin or ADH (anti-diuretic hormone) which enables the kidneys to retain and process fluids properly.
Although the symptoms such as excessive thirst and urination are similar to the symptoms for diabetes mellitus they are not actually caused by the same factors. The main cause of increased thirst and frequent urination in people with diabetes mellitus is hyperglycemia. When a diabetic has increased sugar levels in the blood it forces the kidneys to draw extra fluids from the body tissues in order to get rid of the sugars in the blood stream while processing. DI is caused mainly by lack of fluid regulations in the body. The rate of fluid excretion by the kidneys is controlled by the anti-diuretic,Vesopressin.
Different kinds of DI include:
1. Central DI: caused by damage to the pituitary gland due to head injuries or surgical intervention. Vasopressin is produced by pituitary gland in the brain.
2. Nephrogenic DI: mainly caused by kidney defect in the tubules which control the fluid processing rate. In this condition the tubules lose the ability to respond to the ADH.
3. Gestational DI: happens during pregnancy where the mother's body could lose the ability to produce ADH.
4. Dipsogenic DI: excessive fluid intake could lead to the suppression of ADH which in turn leads to problems with the thirst regulating mechanism.
Complications that are caused by DI include: dehydration, muscle weakness, increased sodium in the body, fever, headaches, rapid heart rate, electrolyte imbalance, and water intoxication which lowers the sodium concentration in the blood that in turn damages the brain.
Tests and diagnosis for DI include: water deprivation test, urinalysis, MRI of the brain, and genetic screening. Drugs for DI depends on the kind of disorder it presents. For central DI and gestational DI, desmopressin, a synthetic hormone treatment is used, while with nephrogenic DI a low salt diet and Hydrochlorothiazide may be necessary.
A doctor will diagnose and recommend how much drinking of fluids is necessary to avoid dehydration depending on the type of DI being treated. It is important to keep up with the follow up checkups because, OUR LIFE MATTERS.
http://www.ehow.com/about_6577635_do-diabetics-urinate-lot_.html
http://en.wikipedia.org/wiki/Diabetes_insipidus
http://www.mayoclinic.com/health/diabetes-insipidus/DS00799/DSECTION=causes
Reviewed July 15, 2011
by Michele Blacksberg R.N.
Edited by Alison Stanton
Tags: