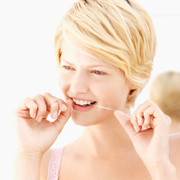 Photo: Getty Images
A questionnaire study has now revealed that diabetics should more careful than the non-diabetic population in their oral hygiene. As per the study "Oral Health Awareness In Adult Patients With Diabetes", there is an increased risk that for those with blood sugar conditions, oral health is connected to developing complications of heart and even cancer.
The study which was published in the British Dental Journal (September 2011 issue) pointed that swollen gums can peg the acuity of diabetes. The inflammation may also lead to rise in the fatalities from oral cancer and pre-malignancies.
It further added that a bad oral hygiene routine could make diabetics suffering from cardiovascular diseases more sick. (1) It also stated that poorly-managed diabetes sped up the pace of development of gum diseases leading to loss of teeth and deterioration of gum health.
The researchers from Warwick Medical School studied 229 adults who were consulting for diabetes soon discovered that a majority of the populace were unaware of the link between their diabetes and their dental condition. In fact only 30 diabetics were aware that their swollen gums had roots in them suffering from diabetes. Still fewer knew that tender gums and loose teeth they had were due to their diabetes.
As per the researchers, "Dental and oral self-care tasks were rated as less important than other diabetes self-care tasks, such as taking prescribed medication or having regular eye checks. Around one-third of patients rated daily flossing as the least important health related activity." (2)
Professor Walmsley who is the scientific advisor at the British Dental Association is of the belief that more and more studies are now showing the close connection between oral health and general well-being of a person, and in particular of those who suffer from certain types of illnesses.
He had advised the medical fraternity to make the patients of diabetes more aware of the oral link. Diabetes impacts other body parts as well, such as vision and feet. These have received more media attention, and thus public awareness, than the dental health angle which is now coming into picture.
Simple routines such as keeping the teeth clean with brushing twice a day with a fluoride toothpaste, seeing a dentist regularly could go a long way in reducing the risk of developing other complications.
SOURCES:
1. Oral Health Of Diabetes Patients Closely Linked To Heart Disease And Cancer Risk; Medical News Today; October, 2011; http://www.medicalnewstoday.com/articles/235365.php
2. Oral health awareness in adult patients with diabetes: a questionnaire study; British Dental Journal; October, 2011; http://www.nature.com/bdj/journal/v211/n6/full/sj.bdj.2011.769.html
INFORMATION IN THIS ARTICLE IS NOT MEDICAL ADVICE. ALL INFORMATION GIVEN IS TO BE CHECKED WITH YOUR DOCTOR BEFORE IMPLEMENTING OR TAKING THEM AS STANDARD OR VERIFIED.
Mamta Singh is a published author of the books
Migraines for the Informed Woman – Tips From A Sufferer: ISBN: 978-81-291-1517-1
Publisher: Rupa & Co. URL:
http://www.amazon.com/Migraines-Informed-Woman-Tips-Sufferer/dp/8129115174/ref=sr_1_2?ie=UTF8&s=books&qid=1298990756&sr=1-2
Mentor Your Mind – Tested Mantras For The Busy Woman: ISBN: 978-81-207-5973-2
Publisher: Sterling Publishers; URL:
http://www.amazon.com/Mentor-Your-Mind-Tested-Mantras/dp/8120759737/ref=sr_1_1?ie=UTF8&qid=1316063179&sr=8-1
and the upcoming
The Urban Woman's Integrated Fitness Guide
Publisher: Hay House India
She is also a seasoned business, creative and academic writer. She is a certified fitness instructor, personal trainer and sports nutritionist through IFA, Florida USA. Mamta is an NCFE-certified Holistic Health Therapist SAC Dip U.K. She is the lead writer and holds Expert Author status in many well-received health, fitness and nutrition sites.
She runs her own popular blogs on migraines in women and holistic health. Mamta holds a double Master's Degree in Commerce and Business. She is a registered practitioner with the UN recognised Art of Living Foundation. Please visit www.mamtasingh.com
Reviewed November 4, 2011
by Michele Blacksberg RN
Edited by Jody Smith
Tags: