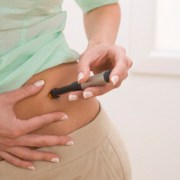 Photo: Getty Images
Treatment of diabetes depends on how a patient's body is breaking down the sugars, their glucose intolerance, the ability of the pancreas to release insulin into the tissues, the ability of the tissues to process the sugars using the insulin in the body and just how much insulin, if any, is produced in the body. Depending on all these factors doctors determine what kind of diabetic medication a patient needs.
When a person is diagnosed with diabetes the first and foremost approach of many doctors is to start them on a diabetic diet and exercise program.
Most people like me who have strong family histories eventually end up taking one or two medications to control their blood sugar levels.
The next step in a treatment plan if the diet and exercise do not work are medications. Most doctors start their patients on low doses. There are a variety of diabetic medications in the market to choose from. They range from fast acting pills or insulin injections to control the spikes in the sugar levels soon after the food intake, to long acting medications and injections to control sugar levels up to twenty four hours.
Some examples of oral medications and insulin injections taken to improve insulin production include Januvia, Byetta, Prandin, Starlix, Glucotrol, Amaryl, etc. Some of these medications act quickly whereas others take a longer time to work. Some may cause weight gain and some weight loss. Medications such as Byetta and Glyburide may cause nausea, headache or dizziness to more severe, but rare effects of kidney problems. Some of them may cause hypoglycemia while others like Januvia may cause upper respiratory infections, sore throat, and in worse case scenario, inflammation of the pancreas.
Medications that work to improve effectiveness of insulin include Metformin, Avandia, Actos, etc. While Metformin lowers the LDL levels, cholesterol and triglycerides, medicines like Avandia may help increase HDL levels.
Contraindications include nausea, diarrhea, weight gain, and on to more severe but rare effects such as heart failure, elevated LDL levels, heart attacks, liver problems or lactic acidosis.
Medications such as Precose, Glyset, etc., are taken to improve food absorption. While they may not cause weight gain they might lead to nausea, diarrhea and other more severe effects.
Any medication that is taken should not be changed in dose or timings without the knowledge of the concerning physician. A regular diet and exercise regimen is recommended to be followed along with the intake of medications in order for them to work properly.
Any contraindications, whether slight or severe, should be relayed to the physician in order for the dose to be adjusted or medication to be changed for a better treatment as soon as possible. I record all my hypoglycemic episodes to discuss them with my diabetic doctor so my medication dose could be adjusted properly. It is not an easy road to travel but being a diabetic doesn't always have to be hard on us if our lifestyle changes are made to work because, 'OUR LIFE MATTERS'
http://www.mayoclinic.com/health/diabetes-treatment/DA00089
http://www.diabetescondition.com/?p=101
Reviewed July 22, 2011
by Michele Blackberg R.N.
Edited by Shannon Koehle
Tags: