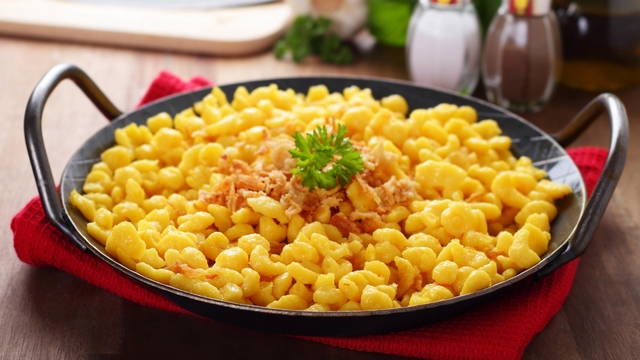 Martin Rettenberger/PhotoSpin
Want to turn comfort food into healthy comfort food? Sometimes just simply swapping out a higher calorie or higher fat ingredient for a lower calorie or lower fat alternative, or adding a little bit of garlic or a finely chopped veggie, will do the trick.
Below are a couple of examples of comfort food made healthy.
Healthy Mac and Cheese Recipe #1
Yummmy!!! Who doesn't love mac and cheese?! I know my son is still a big fan of the blue box stuff. It's always healthier to cook from scratch and usually doesn't take that much more time (sometimes just as much time) as cooking the prepared and processed version.
As with most pasta recipes, it's becoming easier to find noodles that provide whole grains or a serving of vegetables (the kids won't even notice with the sauce). This recipe calls for whole wheat, low-glycemic, gluten-free elbow macaroni, but really any kind of pasta will work.
Kids love spirals and shells. Using the power food butternut squash in the sauce adds Vitamin B-complex vitamins, the highest levels of vitamin A of all the gourd vegetables, and a rich source of dietary fiber.
Caramelizing the onions and pureeing them will add more dietary fiber, vitamin C, and blood sugar control and, again, your kids won't even know they're eating healthy.
You can check out this recipe here.
Healthy Mac and Cheese Recipe #2
This version is low in calories and fat. The pureed onion and garlic pack this dish with flavor and the awesome health benefits of each.
Using non-fat Greek yogurt gives this meal a protein punch and the creamy texture of butter and cream without the fat. Blending this with a reduced-fat cheddar keeps the fat content low and the taste content yummy!
The whole wheat noodles keep you feeling full longer, which is the whole purpose of comfort food, right?
You can get the details of this recipe here.
Healthy Meat Lasagna Recipe
This is a prime example of swapping out some ingredients for healthier alternatives. This recipe calls for lean ground sirloin, which provides the body with a lower calorie source of saturated fat, along with healthy doses of iron, protein, niacin and vitamin B12.
Exchanging normal noodles for the whole wheat version and using a low-fat cottage cheese, which also adds protein, and bone-strengthening calcium and phosphorus, vitamin A and B vitamins turns this normally unhealthy meal into an ultra-healthy -- not to mention tummy-satisfying -- one.
You can get the details of this recipe here.
Healthy Chicken Pot Pie Recipe
The key to this recipe is swapping out the heavier flour-based crust with phyllo sheets. Phyllo pastry is also flour-based, but is made solely from flour and water and has no fat.
Potatoes provide a healthy dose of iron, potassium and vitamin C, as will the onions. Mushrooms are low-calorie, fat-free, cholesterol-free, and low-sodium while being rich in selenium, potassium, Vitamins B12, B6, D and more.
There's no reason be afraid of chicken pot pie any more. You can get the recipe details here.
Reviewed November 25, 2014
by Michele Blacksberg RN
Edited by Jody Smith