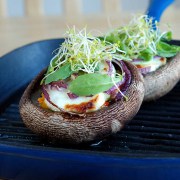 Photo: Getty Images
Whether you're looking to cut calories or reduce your carbon footprint, reducing your meat intake is a trendy (and healthy!) way to manage your diet. Instead of foregoing this versatile food group, consider participating in Meatless Monday or lowering your meat intake to one meal per day.
Try adding one of these five foods into your week's meals to enjoy the satisfaction and heartiness of meat without the meat.
Portabella Mushrooms: Grilled, stuffed, or diced and stir fried, portabella mushrooms are a hearty and delicious substitute to any meal. Try broiling stuffed 'shrooms with a blend of artichoke hearts, Parmesan cheese, and your favorite Italian spices for a satisfying dinner.
Squash: Whether tossed into pasta or oven-baked, squash is a tasty addition to any meal. Choose from butternut and acorn to spaghetti and pumpkin, squash is a delicious addition to everything from curry to bake dishes. Try simply roasting diced squash with olive oil, salt, and pepper for a scrumptious dinner side.
Garbanzo Beans: Nourishing and versatile, garbanzo beans are a welcome addition to almost any dish. Toss these protein-packed beans into your favorite salad or substitute them for chicken in your favorite pasta. Blend them together with some spices and a bit of olive oil for a DIY healthy at-home hummus.
Eggplant: One of the meatiest vegetables in the garden, eggplant is a tasty and hearty addition to your families weekly meal plan. Try sautéing eggplant over high heat and adding it to your favorite sandwich. Use it instead of meat in your next Asian-inspired stir-fry.
Polenta: An Italian cornmeal staple, polenta is a filling and tasty addition to any meal. Buy the pre-cooked version and steam it or sauté it per the packages directions. Enjoy it as a side to a salad or roasted with vegetables for a satisfying lunch or dinner.
Edited by Jody Smith