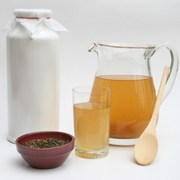 Photo: Getty Images
If you've visited a health food store (or really any store for that matter) you've probably noticed a new addition to their drink shelves in the past few years —kombucha. Kombucha is a natural, raw drink made of live cultures with innate anti-bacterial and anti-fungal properties.
I was first introduced to kombucha about two years ago by a friend of mine who drank it simply because she loved the taste. One drink later, I was hooked.
Proponents of kombucha call it a miracle drink. While there's a bit of controversy surrounding its status as a cure-all elixir, here's five reasons why I'm fine with it.
1. It tastes good. The main reason I drink kombucha is because I love the way it tastes. Some people think it tastes fermented and vinegary, but I find it the perfect balance of sweet yet tart and fizzy yet refreshing.
2. It's low in calories and carbohydrates. One of the biggest ways you can reduce your calorie intake is to cut out all sugary beverages. Things like soda and juice can have almost 150 calories per serving. One serving of kombucha has only 30 calories, five times less.
3. It quenches your thirst. Some sugary drinks give you a feeling of thirst satisfaction but do nothing to really quench your thirst. Kombucha does. Just try it.
4. It satisfies your sweet tooth. Sure, it's no candy bar, but a bottle of kombucha can really hit the spot when you are in the mood for something sweet and don't want to ruin your diet.
5. It might just be good for you. Kombucha claims to be a powerful antioxidant that can do everything from reduce free radicals in your body to help you focus better. If even one of its claims is true, it's worth it to me.
Edited by Jody Smith