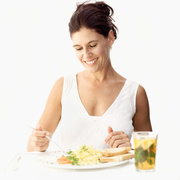 Stockbyte/Thinkstock
When it comes to knowing what the most important meal of the day is, Mama was right — it's breakfast.
If you're facing a long day of meetings and commuting and life in general, you need a balanced breakfast to keep your batteries charged all day long.
Next time you're at a loss for breakfast ideas, check out one of seven favorite healthy, quick, and always delicious ideas to salute the sun.
1. Top a whole grain waffle with mixed berries, a dollop of fat-free Greek yogurt, and a drizzle of honey.
2. Toast a slice of whole wheat bread (or two if you've got a action-packed day) and spread it with almond butter. Top your nutty toast with thinly sliced banana and enjoy.
3. Scramble an egg (or a few whites) with salt, pepper, and a sprinkle of some low-fat cheese. Top it with salsa and wrap in a whole wheat tortilla for a Mexican-inspired start to the day.
4. If you're in a rush, grab an apple, a few slices of cheddar, and a handful of walnuts. Enjoy it on the go for a balanced start to your day.
5. Keep a packet of frozen berries on hand and blend a handful of 'em with a few tablespoons of non-fat Greek yogurt and a sweetener of your choice. Enjoy it immediately with a handful of almonds for an extra boost of protein.
6. For a pizza-inspired breakfast, toast a slice of whole wheat bread and top it with two tablespoons of ricotta cheese and freshly sliced tomatoes.
7. If all else fails timing-wise in the morning (as it often does in most households) keep a protein bar on hand for a grab-and-go snack. (Luna Bars and Kind Bars are my personal fave!)
Edited by Jody Smith