Via FoodiesFeed
November is World Vegan Month, making it the perfect time to experiment with all of the delicious and easy animal-product free recipes available.
1. Vegan Eggplant Parmesan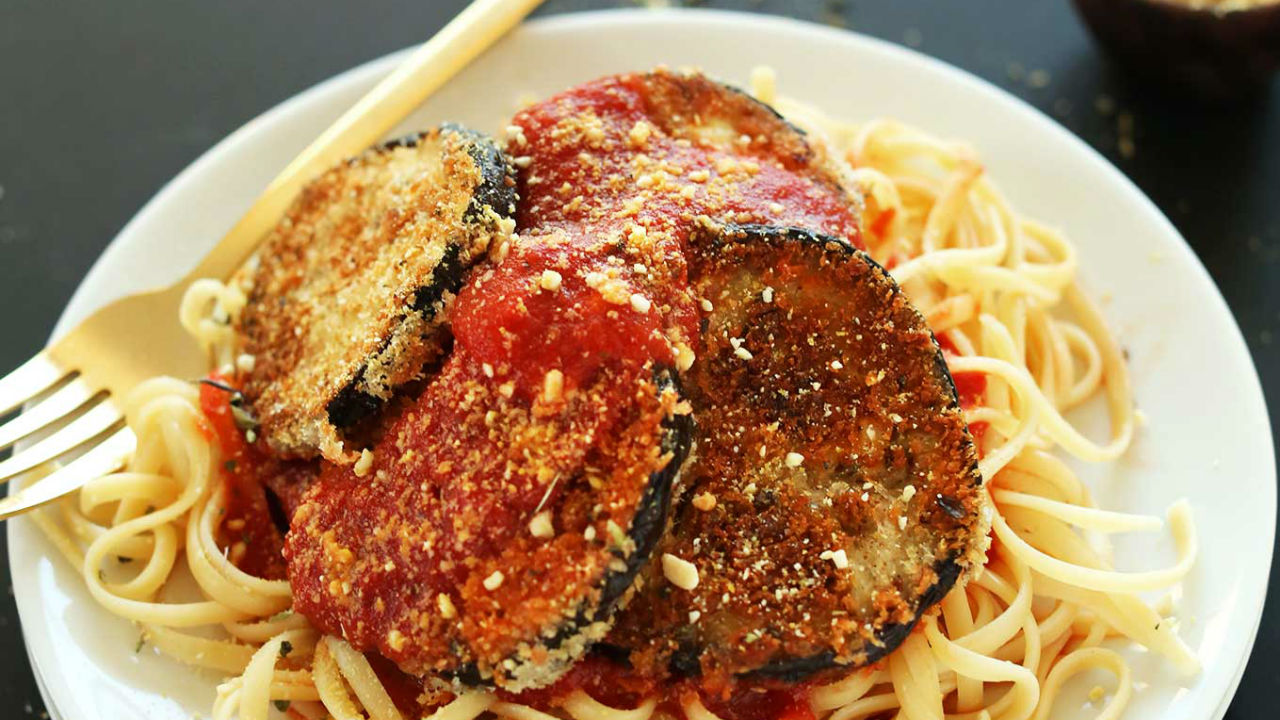 Via MinimalistBaker.com
This Eggplant "Parmesan" was adapted from a non-vegan pasta recipe and created with just ten ingredients. This simple recipe will allow you to have a delicious, animal-product free pasta dish in as little as an hour.
Cut your eggplant into half-inch tall slices and sprinkle them with sea salt, then have them sit for about 15 minutes. After, rinse and dry the eggplant. Preheat your oven to 400 degrees and begin boiling a pot of water. Prepare three bowls, one filled with cornstarch mixed with almond milk, one with flour and the third with sea salt, bread crumbs, vegan parmesan and oregano. Dip your eggplant slices into the flour, followed by the cornstarch mixture and then finally dip into the last bowl. Bake for approximately 25 minutes. While the eggplant is cooking, prepare your marinara and pasta. Read the full recipe here.
2. Vegan Spinach Dip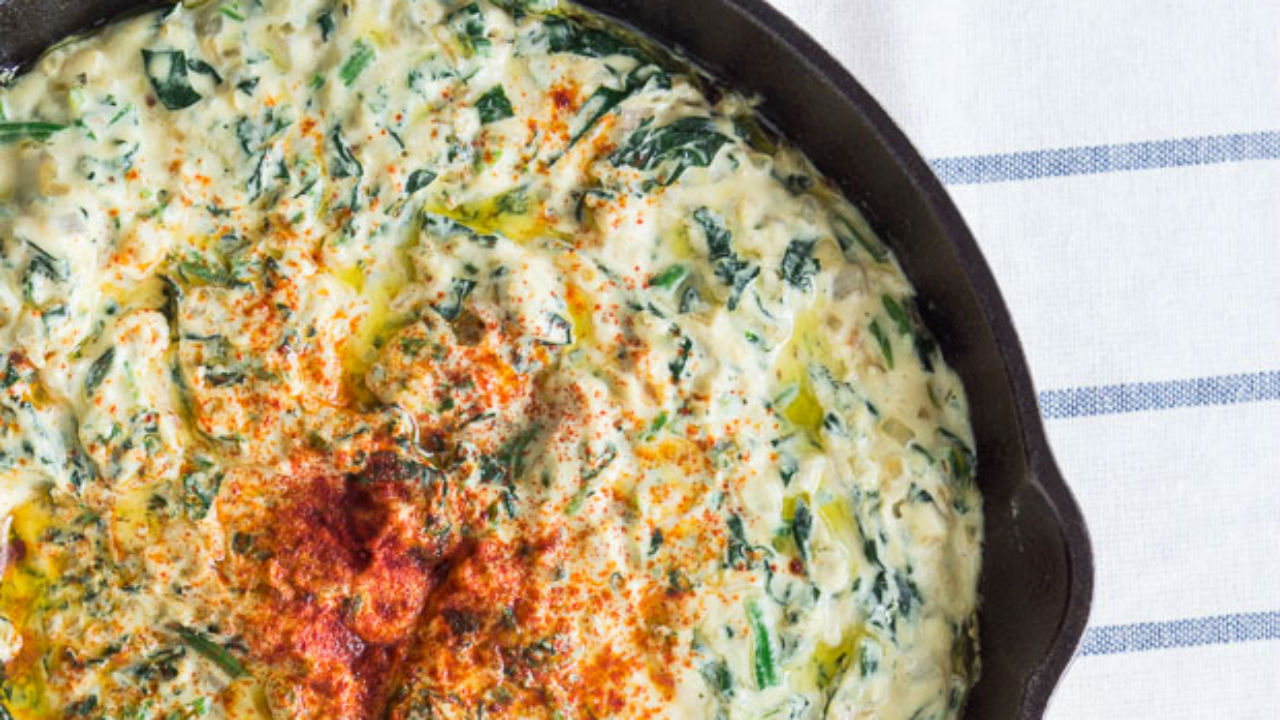 Via NoRecipes.com
Vegan spinach dip has all the yummy taste of actual cheesy dip minus the guilt that comes with it. This recipe is the perfect dish to bring to a party or to just snack on when you're relaxing at home.
Blend together tofu, cashews that have been soaked in water overnight, nutritional yeast, vinegar and salt until you have a smooth consistency. Bring a pot to a boil and add spinach, boil for about one to two minutes and then drain the spinach. Chop your spinach into smaller pieces and add in oil, garlic and onions and sauté them until the onions caramelize. Add in the mixture from the blender and cook until the dip is heated. Read the full recipe here.
3. Vegan Pumpkin Cinnamon Rolls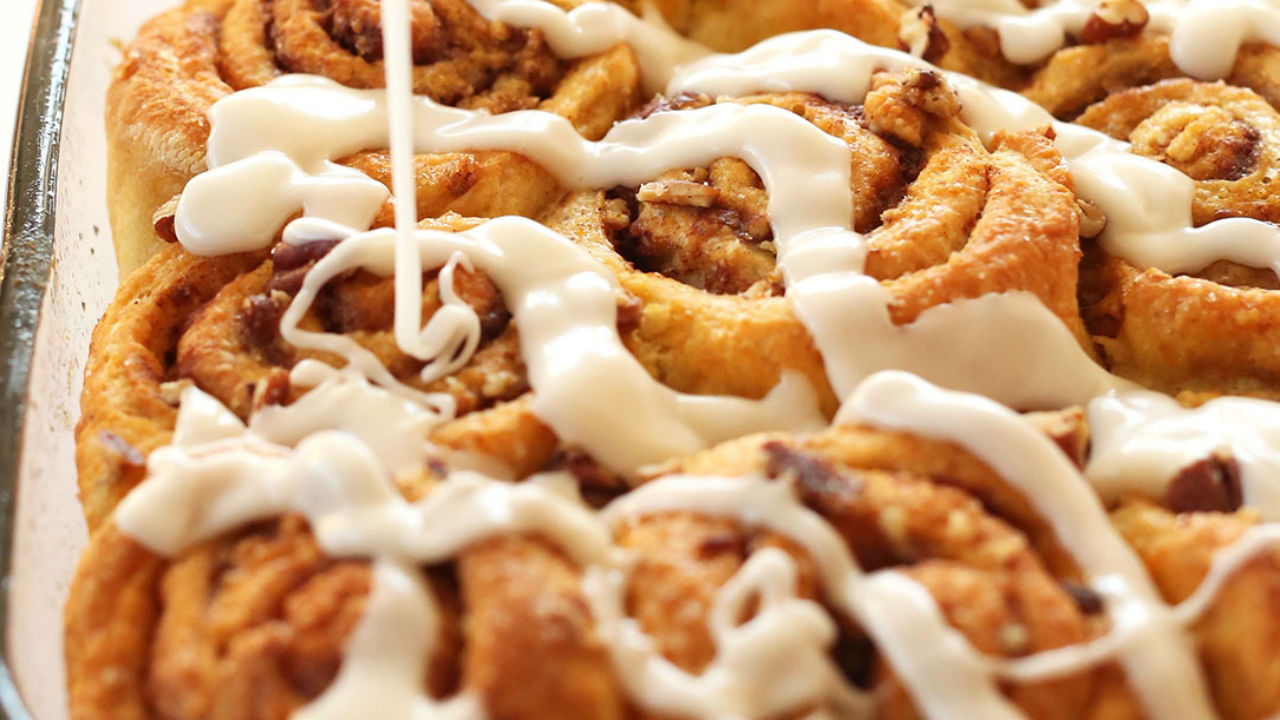 Via MinimalistBaker.com
What more perfect time to eat pumpkin cinnamon rolls then the fall? These gooey and sweet cinnamon rolls are more subtle in their pumpkin flavoring, but the hint of pumpkin is what makes them worth the effort.
Heat almond milk and vegan butter in the microwave for 30 seconds. Sprinkle some instant yeast on top and give it about ten minutes to activate. After, add sugar, salt, cinnamon, pumpkin pie spice and pumpkin puree. Slowly add flour into your mixture and knead it until it forms a dough-like consistency. Roll the dough in some oil and allow it to rise for about an hour. Roll your dough out into a rectangular shape and cover it with vegan butter and pumpkin butter. Top the dough with cinnamon, sugar, pumpkin pie spice and pecans. Roll the dough up into a cylinder shape and cut it into two inch sections. Place your cinnamon rolls in a pan and bake at 350 degrees for approximately 35 minutes. Read the full recipe here.
4. Creamy Vegan Mac and Cheese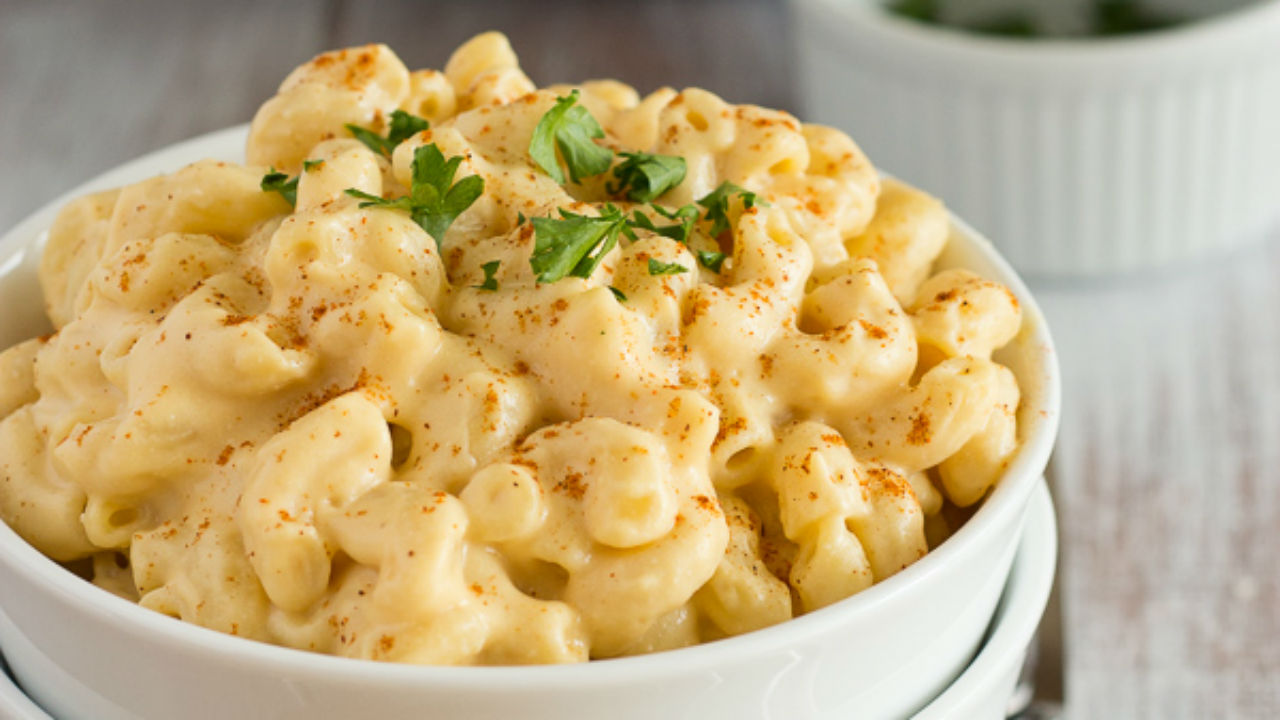 Via VeganYumminess.com
While there isn't any actual cheese in this recipe, it looks very similar and is a great alternative when you're craving some filling pasta. Even though it doesn't taste like cheese, the tasty cashew-potato concoction is just a delicious.
Cook a pasta of choice according to box instructions. Boil a pot of water and add potatoes, carrots and onions into the water and cook for ten minutes. Take the vegetables out of the water and blend them together with ¾ of the water in which they were cooked until they are a creamy consistency and poor over your pasta. Read the full recipe here.
5. Teriyaki Cauliflower Rice Bowls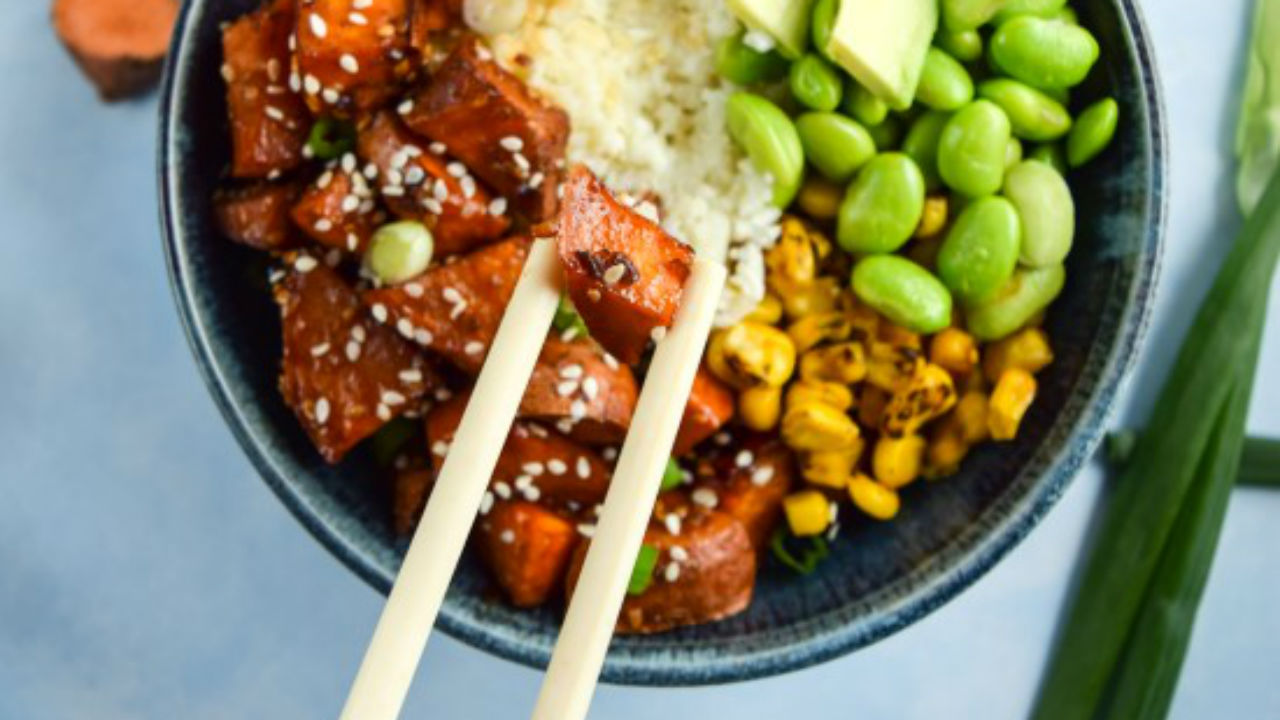 Via YupItsVegan.com
Having everything you could want in a dinner combined into a bowl is the epitome of dinning, right? Not only is this yummy barbecue dish animal-product free, it can be made grain-free by replacing the corn with any vegetable of your choosing.
To make cauliflower resemble rice, break it up into small pieces and put it in a food processor until it is in very small pieces. Cook the 'rice' in the oven for 15 minutes, making sure to flip it once, at 350 degrees. Place your rice into a bowl, followed by teriyaki, sweet potatoes, edamame, corn and avocado. Read the full recipe here.
6. Creamy Tomato Basil Lentil Pasta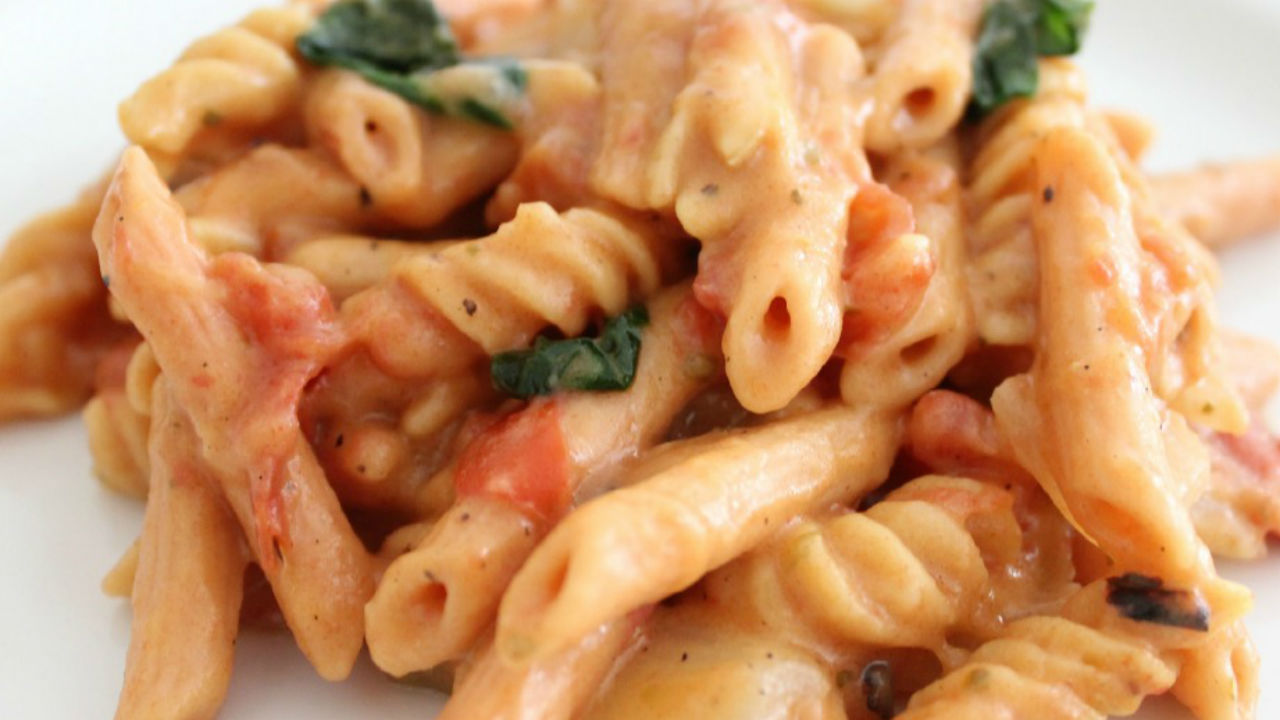 Via Tedisarah.com
This one-pot pasta has everything you could look for in a dish. It's vegan, dairy free and gluten free and one of the easiest dinners you will make all week.
In one pot, combine lentil pasta, vegetable broth, tomatoes, onion, garlic, olive oil and oregano. Bring the pot to a boil and then allow it to simmer on reduced heat for about 20 minutes, making sure to stir frequently. Finish the dish by adding some basil, salt and pepper and stirring for another minute to create an even consistency. Read the full recipe here.
Spicy Chickpea Veggie Burgers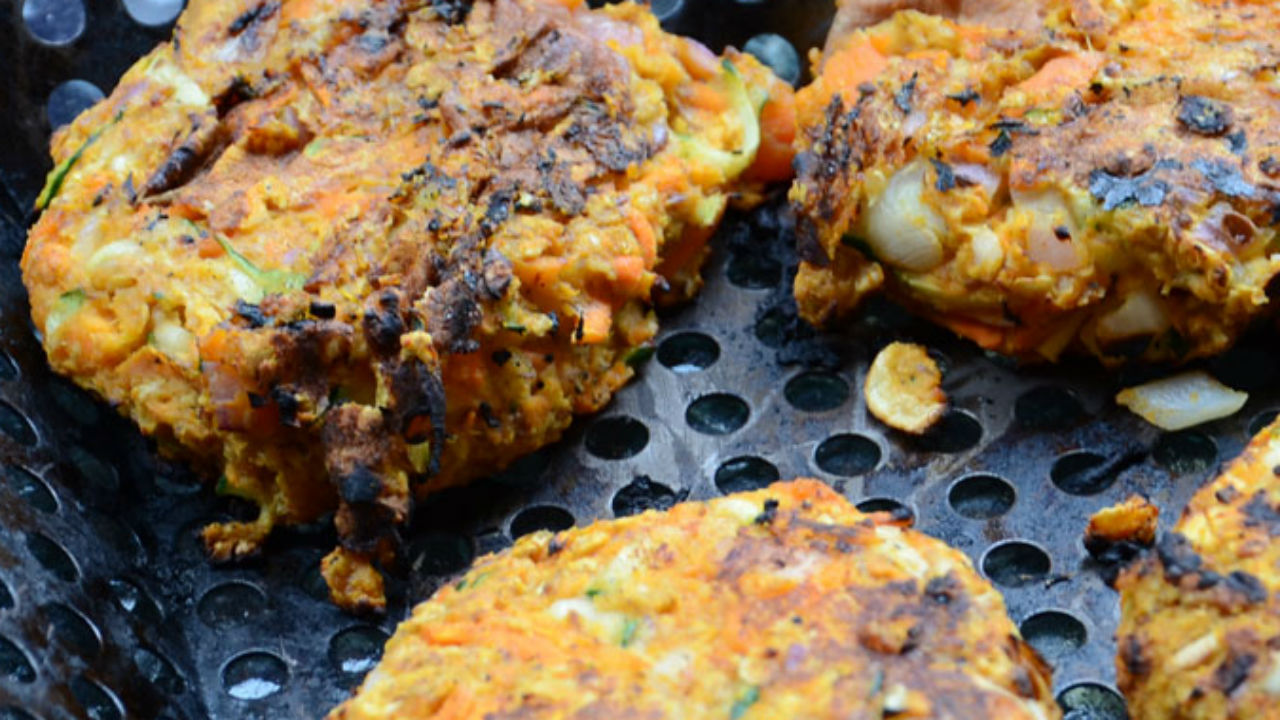 Via RunningOnRealFood.com
These chickpea veggie burgers pack a punch when it comes to spice. They are very easy to create and are able to feed up to eight people, making them the perfect barbecue main dish at your next family gathering.
Rinse your chickpeas and then mash them up in a bowl using a fork. Combine into the bowl red onions, zucchini, cilantro, red wine vinegar, Sriracha sauce, peanut butter, cumin, garlic powder, pepper, sea salt, quick oats and olive oil. Mix them together using your hands, and form into 6-8 veggie patty shapes. Cook on your barbecue for about ten minutes each at 400 degrees. Read the full recipe here.