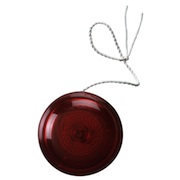 PhotoSpin
After indulging in the food joys that come with the holidays or just an effort to reach a goal weight, many get stuck in "yo-yo" dieting. Pre-dieting may be the way to stop the yo-yo from rolling and keep your weight in your grasp, according to research.
Yo-Yo dieting is the result of weight cycling, or the repeated loss and regain of body weight. A weight cycle can range from small weight changes (5-10 lbs. per cycle) to large changes in weight (50 lbs. or more per cycle), WebMD.com says.
According to WebMD.com, obesity researchers believe that obese individuals should continue trying to control their body weight despite some weight cycling.
Researchers at Baylor College of Medicine evaluated the effectiveness of non-dieting versus dieting treatments for 219 overweight, binge-eating women.
The women were randomly assigned to one of three groups: diet treatment, non-diet treatment, or wait-list control group. The diet treatment group received a balanced-deficit diet reinforced with behavioral strategies.
Non-diet treatment received therapy designed to help participants break their dieting cycles.
According to Baylor School of Medicine researchers, "Treatment in both conditions was administered in weekly groups for six months, followed by 26 biweekly maintenance meetings, for a total of 18 months of contact." At six months, the diet treatment group lost weight, while the non-diet treatment group gained weight. Both treatment groups reduced their binge-eating more than the control group.
At 18-month follow-up, both treatment groups experienced weight gain but maintained similar reductions in binge eating. Results indicate that neither intervention was successful in producing short- or long-term weight loss.
Researchers have found that after a weight cycle, people have the same amount of fat and lean tissue as they did prior to weight cycling, reported WebMD.com.
Although it is not determined whether yo-yo dieting is harmful to your health, there are still concerns. A concern is that weight cycling can cause more fat to collect in the stomach area rather than the hips or butt. This is correlated with the probability of developing health problems associated with obesity.
WebMD.com recommends that if you are not obese and have no risk factors for obesity-related illness, focus on preventing further weight gain by increasing exercise and eating healthy, rather than trying to lose weight.
This is the pre-dieting stage that could be beneficial to a healthier life. Don't restrict yourself, but to get the amount of fat you want in your diet — up to 30 percent of total calories, kidshealth.org says.
Pre-dieting should not include restricting certain food groups, either. Eat bread or pasta in moderation and don't just eat fruits or vegetables because they're coined as healthy. The nutritional value of the foods you eat such as the vitamins and minerals you need should be a big factor in what you choose to eat.
Losing weight is a lifelong commitment to changes in eating behaviors, diet and physical activity. Ease yourself into this dramatic change and break your weight-loss cycle or the yo-yo will continue to roll, back and forth.
Sources:
Can diets be unhealthy? Kidshealth.org. http://kidshealth.org/teen/food_fitness/dieting/dieting.html#. Retrieved November 8, 2012.
Weight Cycling and Yo-Yo Dieting.
WebMD.com. http://www.webmd.com/diet/weight-cycling. Retrieved November 7, 2012.
Nondieting Versus Dieting Treatment for OverweightBinge-Eating Women
G. Ken Goodrick, Walker S. Carlos Poston II, Kay T. Kimball, Rebecca S. Reev
http://web.pdx.edu/~mccunee/quant_621/PSY%20624/4%20Exploring%20Experime.... Retrieved November 7, 2012.
Reviewed November 8, 2012
by Michele Blacksberg RN