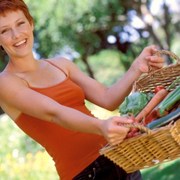 Pixland/Thinkstock
When compiling any list of reasons to go vegetarian, the lowered risk of heart disease usually rises to the top.
By cutting meat out of your diet, you are decreasing your intake of animal fats that often contribute to high cholesterol levels and heart problems.
Say, though, that heart disease is not your immediate concern and that you are looking for other reasons to go vegetarian.
It turns out that, for direct and indirect reasons, your digestive system could be a key beneficiary of a vegetarian diet.
First of all, a vegetarian diet can help you lose weight, and a leaner physique puts less strain on your liver, kidneys and other digestive organs.
Second, a vegetarian diet has been shown to be a viable option for those with diabetes, who want to bring their blood sugar under control.
Third, vegetarians rightfully claim that their diet lowers their risk of cancer, and there are major organs in the digestive system that are vulnerable to cancer, including the colon. Colon cancer is one of the leading causes of cancer deaths in the United States.
Because colorectal cancer has occurred in my family, I am seriously considering going vegetarian. So I was encouraged by an article called "Why Go Veg?" on the VegetarianTimes.com website. Plus, it sounds fun to possibly announce I have "gone veg."
The article states that the research is extensive on the health benefits of a plant-based diet. It also says that one-third of all cancers are related to diet, noting:
"A vegetarian diet reduces the risk for chronic degenerative diseases such as obesity, coronary artery disease, high blood pressure, diabetes and certain types of cancer including colon, breast, prostate, stomach, lung and esophageal cancer."
That's a pretty powerful recommendation for going meatless, or at least for reducing the meat in my diet, a philosophy which falls in line with recent federal government guidelines on nutrition.
"You'll be more 'regular,' " the article adds, in case anyone needed a reminder about the importance of fiber for aiding digestion. A vegetarian diet necessitates an abundance of fruits and vegetables to balance out nutrients, meaning you will easily meet your daily fiber requirements.
"People who eat lower on the food chain (no meat) tend to have fewer instances of constipation, hemorrhoids and diverticulitis," according to the article. Diets high in processed foods have been linked to diverticula, small sacs in the colon that occasionally become inflamed and lead to diverticular disease.
Of course, the website lists additional, non-health related reasons to "go veg," including a desire to spare animals from slaughter, a concern for the environmental impact of raising animals for human consumption, and a means of reducing your grocery budget.
I am also encouraged that the Academy of Nutrition and Dietetics (formerly the American Dietetic Association) has endorsed well-balanced vegetarian diets for any stage of life.
In a 2009 revised position paper, the academy said, "Vegetarians tend to have a lower body mass index and lower overall cancer rates. Vegetarian diets tend to be lower in saturated fat and cholesterol and have higher levels of dietary fiber, magnesium and potassium, vitamins C and E, folate, carotenoids, flavonoids and other phytochemicals."
Even if I don't embrace complete vegetarianism, it's possible to accrue some of the health benefits by being a semi-vegetarian (also called "flexitarian").
As the Cleveland Clinic website explains, a semi-vegetarian diet excludes red meat and sometimes poultry, yet keeps fish and dairy products.
It's also possible to be a lacto-ovo-vegetarian, eating all dairy products and eggs but no meat, poultry or fish. In the next level of strictness, a lacto-vegetarian eats dairy products but excludes eggs. Finally, a vegan excludes all foods of animal origin to concentrate on plant foods. I'm not sure the nuts and seeds route is for me, however.
In the article "Understanding Vegetarianism," the Cleveland Clinic website notes that a veg lifestyle might have health, religious, environmental or humanitarian rationales, but " … any step towards removing animal products from your diet is a step closer to optimal health."
Nutritionists are the go-to experts for ensuring that a vegetarian diet or any variation of it is providing you with the right balance of nutrients.
For myself, going veg or not going veg, I am glad I am rethinking my eating habits in regard to digestive disease prevention. And it's a good thing I like tofu.
Sources:
"Why Go Veg?" Vegetarian Times. Web. 2 July 2012.
http://www.vegetariantimes.com/article/why-go-veg-learn-about-becoming-a...
"Appropriate Planned Vegetarian Diets Are Healthful, May Help in Disease Prevention and Treatment, Says American Dietetic Association." Academy of Nutrition and Dietetics, July 1, 2009, press release. Web. 2 July 2012.
http://www.eatright.org/Media/content.aspx?id=1233&terms=vegetarian
"Understanding Vegetarianism." Cleveland Clinic: Heart and Vascular Health & Prevention. Web. 2 July 2012.
http://my.clevelandclinic.org/heart/prevention/nutrition/understanding-v...
Reviewed July 3, 2012
by Michele Blacksberg RN
Edited by Jody Smith