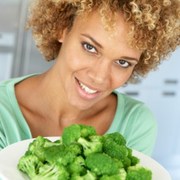 Hemera/Thinkstock
Scientists have long known that the cancer-fighting edge of broccoli comes from a chemical compound it contains, known as sulforaphane. This compound is also found in abundance in other cruciferous vegetables such as kale and cauliflower.
However, broccoli in particular is loaded with this compound. It has been well-known that a mechanism involving histone deacetylases (HDAC) was responsible for fighting tumors. The HDAC inhibitors like sulforaphane restored balance in a gene and prevented the development of cancer.
Cancer can develop as a result of not just inherited factors such as a faulty genetic code, but also as a result of factors which come from the outside world such as exposure to toxins, the food we eat, etc. These external factors can also set off incorrect genes and activate them.
So cancer is complex in nature and may result from not just one, but a combination of a number of things going wrong in our genetic system.
New research has come out from the scientists at Oregon State University indicating that sulforaphane also acts in another way, thus becoming a multitasking compound which serves a double blow to cancer.
The new mechanism involved an epigenetic (involving the study of gene function) process called DNA methylation. Studies show that together, HDAC inhibition and DNA methylation were influenced by sulforaphane, and they worked in tandem to maintain proper cell function and restored equilibrium in cells after cell division. (1)
So what is DNA methylation? It is a biochemical process which serves many critical functions, one of which is suppressing the expression of virulent genes and other "bad" elements that get incorporated into the genome over a period of time.
DNA methylation helps turn off genes and aids in the control of which DNA material gets read as part of genetic communication. In cancer as well as in neurodegenerative diseases, cardiovascular disease, immune function, this process gets mixed up.
According to Emily Ho, an associate professor in the Linus Pauling Institute and the OSU College of Public Health and Human Sciences, "With these processes, the key is balance. DNA methylation is a natural process, and when properly controlled is helpful. But when the balance gets mixed up it can cause havoc, and that's where some of these critical nutrients are involved. They help restore the balance." (2)
The findings of the research were published in the journal Clinical Epigenetics and the study was supported by the National Institutes of Health and the OSU Environmental Health Sciences Center.
SOURCES:
1. Eat Your Broccoli: Another Mechanism Discovered by Which Sulforaphane Prevents Cancer; Science Daily News; March 2012; http://www.sciencedaily.com/releases/2012/02/120228140555.htm
2. Eat Your Broccoli: Study Finds Strong Anti-Cancer Properties In Cruciferous Veggies; Oregon State University - University Relations and Marketing News & Research Communications; March 2012; http://oregonstate.edu/ua/ncs/archives/2007/may/eat-your-broccoli-study-finds-strong-anti-cancer-properties-cruciferous-veggies
Technical report of the study may be accessed at:
1. Promoter de-methylation of cyclin D2 by sulforaphane in prostate cancer cells; Clinical Epigenetics (Journal); March 2012; http://www.clinicalepigeneticsjournal.com/content/3/1/3
INFORMATION IN THIS ARTICLE IS NOT MEDICAL ADVICE. ALL INFORMATION GIVEN IS TO BE CHECKED WITH YOUR DOCTOR BEFORE IMPLEMENTING OR TAKING THEM AS STANDARD OR VERIFIED.
Mamta Singh is a published author of the books Migraines for the Informed Woman – Tips From A Sufferer: ISBN: 978-81-291-1517-1 (Publisher: Rupa & Co. URL: http://www.amazon.com/Migraines-Informed-Woman-Tips-Sufferer/dp/8129115174/ref=sr_1_2?ie=UTF8&s=books&qid=1298990756&sr=1-2), Mentor Your Mind – Tested Mantras For The Busy Woman: ISBN: 978-81-207-5973-2 (Publisher: Sterling Publishers; URL: http://www.amazon.com/Mentor-Your-Mind-Tested-Mantras/dp/8120759737/ref=sr_1_1?ie=UTF8&qid=1316063179&sr=8-1) and the upcoming Women's Complete Fitness Guide (Publisher: Hay House India).
She is also a seasoned business, creative and academic writer. She is a certified fitness instructor, personal trainer & sports nutritionist through IFA, Florida USA. Mamta is an NCFE-certified Holistic Health Therapist SAC Dip U.K. She is the lead writer and holds Expert Author status in many well-received health, fitness and nutrition sites.
She runs her own popular blogs on migraines in women and holistic health. Mamta holds a double Master's Degree in Commerce and Business. She is a registered practitioner with the UN recognised Art of Living Foundation. Please visit www.mamtasingh.com
Reviewed April 19, 2012
by Michele Blacksberg RN
Edited by Jody Smith