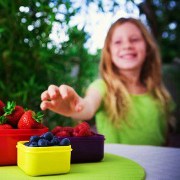 Photo: Getty Images
Every seasoned weight-loser knows there's only one way to be successful: eat less and exercise more. While that may sound simple, it's pretty darn complicated. The more you exercise, the hungrier you get. The key to seeing that pesky number on the scale go down is to eat the right foods to fuel your workout. Pre-exercise eats should consist of slow-burning complex carbs (think fruits, veggies, and whole grains) and low-fat proteins. Be sure to hydrate properly before, after, and during your workout too. Remember, the better your belly is filled before you hit the gym, the better results you'll see.
Bananas: Packed with potassium and good-for-you carbs, there's no better workout fuel than a plain and simple banana. Potassium is great for fighting pesky side cramps and helping with fluid absorption and the high level of carbs in bananas will keep you satiated as you pump that iron.
Almond (or Peanut) Butter: Fill celery sticks or top apple chunks with a tablespoon or two of nut butter an hour or two before go time. Nut butters are a potent mix of protein and fat and have a great slow-release of energy ensuring you get a kick-butt workout.
Berries and Cottage Cheese (or Yogurt): Berries are low in sugar and packed with antioxidants and fiber. When paired with cottage cheese, yogurt, or even string cheese they make an ideal before-workout snack. The mix of protein, carbs, and calcium will fill your belly and keep you energized.
Lentils: Packed with good, fiber-filling carbs, protein, and essential vitamins and minerals, lentils are an ideal pre-exercise pick. Eat a dinner of lentil soup an hour or two before an evening workout. If you're unfamiliar with lentils, go easy at first as they can cause cramping and gas.
Kind Bars: Energy bars are a great way to boost your energy and curb your hunger. While a lot of bars can be filled with excess sugar and calories, Kind Bars are made with whole nuts and fruits making them the perfect wholesome, handy, and tasty snack.
Edited by Jody Smith