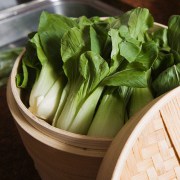 Photo: Getty Images
Of all the positive changes you can make for your health, one of the most powerful ones is to eat more leafy green vegetables. Leafy veggies are bursting with tummy-filling fiber and tons of vitamins, minerals and nutrients. Upping your intake of greens can help prevent heart disease, diabetes and cancer, as well as promote weight loss. From shakes to soups, get creative when thinking of ideas to incorporate more of these nutritional powerhouses into your diet.
To encourage you to go green, we've ranked a few of our favorite, most nutrient-packed greens, along with a few cooking tips. Eat up!
Swiss chard: Swiss chard is smoother in texture than other greens, making it perfect for sauteing. Or, you could even blend it into smoothies. Chard packs just 30 calories per cup, and it is a great source of vitamins A and C. Saute chard with garlic, olive oil, salt, and red pepper flakes for a simple, healthy side dish.
Kale: Of all the greens out there, kale is one of the most complete. It's full of fiber, folate, calcium, potassium and vitamins A, C and K. For a crispy alternative to potato chips, toss kale with olive oil and salt, and then bake it for 15 minutes at 350 degrees F.
Arugula: A staple in Italian food, arugula (also known as rocket) has a strong, peppery taste. It is also a good source of numerous vitamins and nutrients, including protein, thiamin, riboflavin and vitamins A, C and K. Toss arugula with olive oil, lemon juice, salt and pepper for a classic, simple salad.
Rapini (Broccoli Rabe): Nutty and pungent in flavor, rapini is a great provider of vitamins A, C and K, as well as potassium, calcium, and iron. Rapini is a staple in Chinese and Italian cuisine, making it great for a stir-fry or pasta dish. Blanch some rapini, and then saute it with olive oil, garlic, salt and red pepper flakes for a hearty side dish.
Bok Choy: Bok Choy, a signature Chinese ingredient, is brimming with vitamin A and C. It's the perfect addition to any Asian-inspired stir-fry dish, or it can be sauteed on its own with garlic, ginger and soy sauce.
Edited by Kate Kunkel