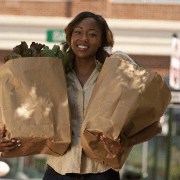 Photo: Getty Images
As HERwriters for EmpowHER.com, we are required to do extensive research for each health column. Over these last two years, I have been impressed with the health information available on government websites.
The health information is free, up-to-date and available in foreign languages. Also, when I contact the government organizations, via phone or email, for additional information or an interview; they call me back promptly.
One standout website is First Lady Michelle Obama's ʺLet's Moveʺ initiative. Here are a few valuable items the ʺLet's Moveʺ website offers: a sample seven-day menu, tips for shopping for fruits/vegetables and the new MyPlate. MyPlate replaces the government's food pyramid of the recommended daily food allowances.
Another great tool is the Three P's of Eating on a Budget. The Three P's offers easy healthy eat tips which including the planning, purchasing and preparing of your food. For example, the ʺLet's Moveʺ initiative recommends the following:
PLAN
• Check for sales and coupons in the local paper or online and consider discount stores
• Make a grocery list
• Include meals that will "stretch" expensive food items (stews, casseroles, stir‐fried dishes)
• Plan meals and snacks for the week according to an established budget
• Ask about a loyalty card at your grocery store
• Find quick and easy recipes online
PURCHASE
• Buy groceries when you are not hungry and when you are not too rushed
• Buy store brands if cheaper
• Buy some items in bulk or as family packs which usually cost less
• Find and compare unit prices listed on shelves to get the best price
• Buy good low‐cost items which are available all year. Those include:
o Protein — beans (garbanzo, black, cannellini)
o Vegetables — carrots, greens, potatoes
o Fruit — apples, bananas
• Choose fresh fruits and vegetables in season, and buy canned vegetables with less salt.
• Stick to the grocery list and stay out of the aisles that don't contain items on your list
• Pre‐cut fruits and vegetables, individual cups of yogurt, and instant rice and hot cereal are convenient, but usually cost more than those that require a bit more prep time.
PREPARE
• Be creative with a fruit or vegetable and use it in different ways during the week
• Try a few meatless meals by substituting with beans and peas or try "no‐cook" meals like salads
• Some meal items can be prepared in advance; pre‐cook on days when you have time
• Incorporate leftovers into a subsequent meal
• Double or triple up on recipes and freeze meal‐sized containers of soups and casseroles or divide into individual portions
Also, the President's Council on Physical Fitness and Sports and the Department of Health and Human Services offer these great healthy eating and fitness tips for our kids:
• Start your day with breakfast
• Get Moving!
• Snack smart
• Work up a sweat
• Balance your food choices -- don't eat too much of any one thing
• Get fit with friends or family
• Eat more grains, fruits and vegetables
• Join in physical activities at school
• Foods aren't good or bad
• Make healthy eating and physical activities fun!
What is your favorite healthy eating tip?
References:
Eat Healthy | Let's Move!. Let's Move!. Retrieved November 29, 2011, from http://www.letsmove.gov/eat-healthy
The Three P's of Eating on a Budget. Let's Move!. Retrieved November 29, 2011, from
http://www.choosemyplate.gov/PlanPurchasePrepare.pdf
Yourself:. The President's Council on Physical Fitness and Sports - Publications. President's Council on Fitness, Sports & Nutrition . Retrieved November 29, 2011, from http://www.fitness.gov/10tips.htm
Reviewed November 29, 2011
by Michele Blacksberg RN
Edited by Jody Smith