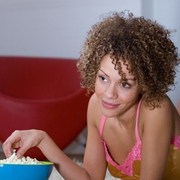 Photo: Getty Images
When you are dieting, snack foods can be so plain and boring. Sometimes these diet snack foods have no personality.
The key to snacks foods while dieting is portion size. Try to keep snacks under 100 calories.
Prepackage and make your own snacks, especially if you are on a budget. You can be creative with diet snack foods.
Commercially pre-packaged could be dangerous to your diet. According to the Journal of Consumer Research ʺconsumers ate twice as much when products came from small packaging.ʺ
Shape Magazine's website stated, ʺif you wind up eating more than one bag, then they are no longer beneficial to your healthy diet plan.ʺ
The following health snacks for weight loss recommendations were compiled from Shape, Better Homes and Gardens, Shape Fit and Women's Health Magazines.
These healthy snack recommendations are between 60-160 calories per serving.
Healthy snack foods for work:
• 1/2 cup edamame (measured shelled)
• 1/2 cup of pumpkin seeds
• 1 1/4 ounces Turkey Jerky
• 1 tablespoon peanuts and 2 tablespoons dried cranberries
• 3 cups of air-popped popcorn
• Small box of raisins
• 16 animal crackers
• 1 cup vegetable juice such as V8, and 2 ounces Oscar Mayer Oven-Roasted Turkey Breast
• 2/3 cup Barbara's Bakery Cinnamon Puffins Cereal (dry)
• 18 Fat Free Rold Gold Tiny Twists
Dining out:
• About 1/2 cup Frozen Yogurt
• 1 ounce Yellowtail, 1 ounce Tuna Sashimi with 1 packet Kikkoman and Instant Tofu Miso Soup
• Starbucks tall skinny latte
Fruit:
• A pear
• An apple
• Small banana
• One cup of strawberries
• One cup baby carrots with 2 tablespoons hummus
• 1/2 cantaloupe
At home snack foods which require prep:
• 1 cup of raspberries with 2 tablespoons plain yogurt and 1 teaspoon honey
• Sliced tomato with a sprinkle of feta cheese and a dab of olive oil
• 8 shrimp and 4 tablespoons cocktail sauce
• 2 egg whites with 1 slice whole wheat toast
• Chocolate Milk (1 c nonfat milk + 1 tablespoon Hershey's Lite Chocolate Syrup)
• 3/4 cup mango tossed with lime juice and red pepper flakes
• 1/2 large pink grapefruit sprinkled with 1/2 tablespoon brown sugar and broiled for about 5 minutes
Prepackaged:
• Sun Chips snack pack
• 1 Hostess 100 Calorie lemon cupcake
• Vitamuffin VitaTop
• Quaker Instant Oatmeal (regular flavor)
• Yoplait Light yogurt (fruit flavors)
• 2 Sargento Light String Cheese Snacks
• Curves Granola Bar
• 1 Nutter Butter Granola Bar
Craving something salty:
• 1 cup Cambell's Select Harvest Light Soup Roasted Chicken with Italian Herbs
• 1 large hard-boiled egg, sliced and sprinkled with salt and cumin, celery seed, or nutmeg
• 3 ounces of deli turkey. Spread 1/2 teaspoon Dijon mustard and roll in 2 romaine lettuce leaves
Caving something sweet:
• 1 sheet of graham crackers. Spread with 1 teaspoon each part-skim ricotta and jam
• Barbara's Organic 100-Calorie Mini Cookies
• 5 Hershey's Special Dark Chocolate Kisses
Happy dieting!
References:
Best Snacks - Healthy Low Calorie Snack Foods For Weight Loss. Get Into Shape Stay Fit - Meal Plans & Workout Routines To Burn Fat & Build Muscle. Retrieved January 25, 2012, from
http://www.shapefit.com/best-snacks.html.
Brown, R. Healthy snacks: Do 100-calorie snacks in packs fit in your healthy diet plan? - Shape Magazine. Shape Magazine - Diet, Fitness, Recipes, Healthy Eating Expertise. Retrieved January 26, 2012, from
http://www.shape.com/healthy-eating/meal-ideas/healthy-snacks-100-calorie-snack-packs
Healthy School Snacks ~ Center for Science in the Public Interest. Center for Science in the Public Interest. Retrieved January 25, 2012, from http://cspinet.org/nutritionpolicy/healthy_school_snacks.html
Keller, L. Healthy Snacks Shopping List. Better Homes and Gardens - Home Decorating, Remodeling and Design Ideas, Gardening, Recipes. Retrieved January 25, 2012, from http://www.bhg.com/health-family/weight-loss/diets/healthy-snacks-shopping-list
Liao, S. List of healthy snacks: The top 20 low calorie snacks for your cravings. - Shape Magazine. Shape Magazine - Diet, Fitness, Recipes, Healthy Eating Expertise. Retrieved January 26, 2012, from http://www.shape.com/healthy-eating/top-20-healthy-snacks
Taking a look at nutrition bars | SeacoastOnline.com. Seacoast Online - Portsmouth NH, York ME, Hampton NH, Exeter NH, and Kennebunk ME Guide. Retrieved January 26, 2012, from http://www.seacoastonline.com/apps/pbcs.dll/article?AID=/20120122/LIFE/201220310/-1/NEWSMAP
Top 28 Best Healthy Snacks | Women's Health Magazine. Women's Health: Health, Fitness, Weight Loss, Healthy Recipes & Beauty. Retrieved January 25, 2012, from http://www.womenshealthmag.com/weight-loss/100-calorie-snacks
Reviewed January 26, 2012
by Michele Blacksberg RN
Edited by Jody Smith