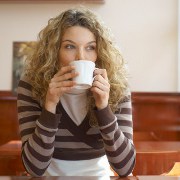 Photo: Getty Images
This holiday season, many of us may celebrate with a holiday drink. Some of these holiday drink concoctions may be alcoholic or non-alcoholic.
One polarizing holiday drink is eggnog. Either you love it or hate this high-calorie drink.
For years, I had serious issues with eggnog. Whenever I'd pick up a glass of eggnog, the whiff of eggs forced the visualization of the famous movie scene of Rocky Balboa chugging down whole eggs from the blender.
After years of controlling my eggnog gag reflex, an old friend of mine said, ʺThe secret to eggceptional eggnog is cooking it slowly at low heat and adding the perfect blend of spices and/or alcohol.ʺ
Needless to say, the eggnog journey and education began years ago. After a few years of holiday failure on the eggnog express, I stumbled upon two recipes which were easy, delicious and low in calories.
Thank you Dr. Katz, for this low calorie treat. For those of you looking for a standard eggnog recipe, you can go to this link:
http://www.oprah.com/food/Make-Your-Own-Eggnog
Dr. Katz's Better-for-You Eggnog
Serves six (100 calories per serving)
Ingredients:
• 6 cups skim milk
• 1 cup egg substitute
• 1/2 cup nonfat powdered milk
• 6 Tbsp. sugar
• 2 tsp. vanilla extract
• 2 tsp. rum extract
• Ground nutmeg or cinnamon
• Sugar-free whipped topping
Directions:
In a medium pot over medium heat, whisk together skim milk, egg substitute, powdered milk, and sugar over medium heat. Cook, stirring, 15 to 20 minutes, until thickened.
Remove from heat. Whisk in vanilla and rum extracts. Let cool, stirring occasionally, 20 to 30 minutes. Refrigerate until chilled, 2 to 3 hours.
Stir well and pour into cups. Sprinkle each with nutmeg or cinnamon, and add a dollop of whipped topping.
If you have extra cranberries from your Thanksgiving meal, you can use them as a garnish for this low-calorie holiday drink recipe. Cranberries may also help prevent urinary tract infections, fight gum disease and cavities.
Sparkling Champagne Cocktail
Serves four
Ingredients:
• 3/5 glass champagne
• 1/5 glass orange-flavored vodka
• 1/5 glass Cointreau
• 1 sugar cube
Directions:
Mix all four ingredients in a champagne flute. Garnish this holiday drink with a slice of fresh tangerine or cranberries.
Poinsettia
Serves one
Ingredients:
• 2 ounces cranberry juice
• 4 ounces (approx. measure: enough to top up glass) champagne, prosecco, cava, or other dry, sparkling white wine
• 1/2 ounce orange liqueur (Cointreau, Clement Creole Shrubb, etc.)
Directions:
Pour cranberry juice into a champagne flute and top up with sparkling wine. Add the final layer or "float" of orange liqueur. Garnish with a twist of orange and single fresh cranberry.
The Normand Fizz (Apple Ginger Calvados Cocktail)
Serves four
Ingredients:
• 4 thin tart apple slices
• 1 teaspoon maple syrup
• 1 oz/ 2 tablespoons lemon juice
• 1 oz/ 2 tablespoons ginger simple syrup (see associated recipe)
• 2 oz/ 1⁄4 cup good-quality Calvados
• Ice cubes
• Soda water to top up
• Lemon peel for garnish
Directions:
In a cocktail shaker, muddle 2 of the apple slices, the maple syrup and lemon juice. Add the ginger simple syrup, Calvados and a few ice cubes. Cover, shake and strain into ice filled glasses. Top up with soda water and garnish with the remaining apple slices and twists of lemon peel. (Calvados is a French apple brandy. The American version of Calvados is Applejack).
Enjoy your holidays and drink responsibly. According to the National Highway Traffic Safety Administration (NHTSA), ʺtwo to three times more people are killed by drunk drivers during the holidays than any other time during the year.ʺ The NHTSA reported more than 40 percent of traffic fatalities involve a driver who is impaired by alcohol.
Have a happy and safe holiday season!
References:
Rethinking Holiday Drinking. NIAAA Home. Retrieved November 24, 2011, from http://www.niaaa.nih.gov/Publications/RethinkingHolidayDrinking.
http://www-nrd.nhtsa.dot.gov/pubs/810985.PDF
Aditi. Sparkling Champagne Cocktail Recipe. Seafood cooking recipes, tips and recommendations from best cooks. Retrieved November 24, 2011, from http://seacooking.com/drinks/sparkling-champagne-cocktail-recipe
Apple Ginger Calvados Cocktail Recipe | gourmandeinthekitchen.com. gourmande in the kitchen. Retrieved November 24, 2011, from http://gourmandeinthekitchen.com/2011/the-normand-fizz-apple-ginger-calvados-cocktail
Dr. Katz's Better-for-You Eggnog - Oprah.com. Oprah Winfrey's Official Website - Live Your Best Life - Oprah.com. Retrieved November 24, 2011, from http://www.oprah.com/food/Dr-Katzs-Better-for-You-Eggnog
Make-Your-Own Eggnog - Oprah.com. Oprah Winfrey's Official Website - Live Your Best Life - Oprah.com. Retrieved November 24, 2011, from http://www.oprah.com/food/Make-Your-Own-Eggnog
Quick and Easy Thanksgiving Cocktail: The Poinsettia Straight Up Cocktails and Spirits | Apartment Therapy The Kitchn. Apartment Therapy The Kitchn. Retrieved November 24, 2011, from http://www.thekitchn.com/thekitchn/liquor/quick-and-easy-thanksgiving-cocktail-the-poinsettia-straight-up-cocktails-and-spirits-070106
The Science Behind Thanksgiving Day Food. Smithsonian Magazine. Retrieved November 12, 2011, from www.blogs.smithsonianmag.com/food/2010/11/science-trivia-on-your-thanksgiving-plate/?utm_source=smithsoniantravandcult&utm_medium=email&utm_campaign=201111-Travel
Reviewed November 24, 2011
by Michele Blacksberg RN
Edited by Jody Smith