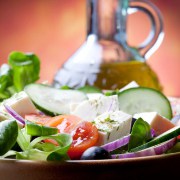 Photo: Getty Images
Besides being close in location, the Middle East and Mediterranean also share similar cuisines which are known to be some of the healthiest in the world. According to livestrong.com, the Middle Eastern diet falls into a larger category of "Mediterranean diet," and has been influenced by countries throughout Asia, Europe and the Mediterranean region, making the diet what it is today.
Key Elements of the Middle Eastern Diet
Spices
When making dishes in the Middle East, spices play an important role in adding rich flavor without adding too much sodium as salt does. Common spices used in the Middle Eastern diet include garlic, cinnamon, oregano, parsley, leek, pepper and dill. The seasonings are often added to various dishes to create distinct tastes.
Fruits and Vegetables
Rather than eating sugary candies or caloric cakes as a sweet, Middle Easterners often consume fruit for dessert. Not only does fruit satisfy a sweet craving, but it leaves individuals feeling fueled and fuller longer due to its fiber content. Typical fruits in the Middle Eastern diet include cherries, apricots, pomegranates, dates, watermelon and mangos. The fruits are also incorporated in main dishes in various salads or as sauces. Vegetables are very common in the Middle Eastern diet. The primary vegetable used is the eggplant, but livestrong.com says other common vegetables include onion, spinach, cucumber, okra, cauliflower, cabbage and potatoes. Like fruits, vegetables can also be added to other meals as salads, side dishes or stuffed with meats, rice or couscous. According to livestrong.com, the Middle Eastern diet features about two or three servings of both fruits and vegetables daily.
Grains
Healthy grains are eaten throughout the day in the Middle Eastern diet. Those who follow a Middle Eastern diet eat about six to eleven servings of grain each day, says livestrong.com. Studies have proved that whole grains can lower the risk of heart disease, stroke and diabetes. Whole grains also keep the human body fuller for a longer amount of time which helps individuals control overeating. Staple whole grains in the Middle Eastern diet include couscous, rice, pita bread, tabbouleh, bulgur and lavash, says livestrong.com.
Olive Oil
Middle Easterners use olive oil in many of their meals, which not only adds flavor to dishes, but also contributes to many health benefits. Unlike unhealthy fats such as butter, olive oil is more heart-healthy. Multiple studies have proven that olive oil helps decrease blood pressure and LDL cholesterol (bad cholesterol). Common dishes that use olive oil include couscous, chicken, fish and dips such as hummus.
Protein
Although many Middle Eastern dishes consist of vegetables, Middle Easterners still consume much protein throughout the day. Because the majority of Middle Easterners are either Muslim or Jewish, religious laws forbid them from eating pork. However, other common meats in the Middle Eastern diet include lamb, chicken, fish, kosher beef and poultry. Many plant sources such as legumes, quinoa, beans (garbanzo or chick pea, red, black), pistachios, almonds, pine nuts and lentils. According to livestrong.com, the typical Middle Eastern diet comprises of two or three servings of protein daily.
Dairy Products
Many of the dairy products from the Middle East are made of fermented goats' milk. Yogurt is a popular dairy food in the Middle East and is often eaten in dips and sauces, or as a dessert with fruit and honey. Several varieties of cheeses exist throughout the Middle East that are very popular by themselves or incorporated in larger dishes. Typical Middle Eastern cheeses include labneh (a creamy, low-caloric cheese made from yogurt and often used as a veggie or fruit dip, or as a bread or bagel spread like cream cheese), feta cheese (low-caloric and used in various dishes including salads, couscous, and on top of meats and fish), halloumi (made of goat and sheep milk, similar to mozzarella cheese and often used in grilling), and ackawi (made from cow milk and often eaten by itself or with bread, pita, crackers or fruit).
Health Benefits of the Middle Eastern Diet
Following a Middle Eastern diet offers several health benefits. Because red meats, other fatty animal products and foods high in saturated oils and fats are not used often, the heart benefits from the Middle Eastern Diet. Studies prove that a reduction in foods containing unhealthy fats also lowers the risk of stroke and heart diseases. The Middle Eastern diet also contributes to improved brain health and longer lives. Livestrong.com said that a 2008 study in the British Medical Journal showed how a Middle Eastern or Mediterranean diet can improve overall health. "This review analyzed 12 studies that tested the effects of a Mediterranean diet on mortality, Parkinson's, Alzheimer's and heart diseases of a total 1.5 million people. According to this review, a Mediterranean-style diet can reduce overall mortality and mortality from cancer or heart disease, as well as your risk of developing Parkinson's or Alzheimer's," said Livestrong.
Resources:
Greek and Middle Eastern diet. Diet.com. Web. August 15, 2011.
http://www.diet.com/g/greek-and-middle-eastern-diet
Middle Eastern Diet. Livestrong.com. Web. August 15, 2011.
http://www.livestrong.com/article/287165-middle-eastern-diet
How Healthy Is A Middle Eastern Diet? Livestrong.com. Web. August 15, 2011.
http://www.livestrong.com/article/419370-how-healthy-is-a-middle-eastern-diet
Middle Eastern Cheese Varieties. About.com. Web. August 15, 2011.
http://mideastfood.about.com/od/tipsandtechniques/a/cheese.htm
Edited by Jody Smith