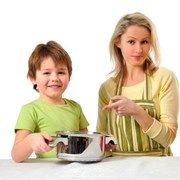 iStockphoto/Thinkstock
By virtue of its rich and appealing looks as well as its mild taste, spinach does not need much "luring into" to be served to and enjoyed by adults or children.
Spinach is native to central and south Asia though it can be grown in all places sporting mild winters and even in temperate regions. It is an annual plant with large oval or triangular, simple leaves that are either vibrant green or dark green in color. (1)
Spinach is known to be rich in phytonutrients such as flavonoids and carotenoids. Recent studies have also found them rich in glycoclycerolipids which have the potential to protect our intestinal walls from damage, especially inflammation (2).
Spinach is an excellent source of antioxidants which protect the body from the harmful effects of free radicals formed as a result of metabolization or through exposure to environmental toxins.
Spinach is also a rich source of Vitamin A, Vitamin K, folate and manganese and a host of other minerals and vitamins. With all these benefits, including spinach in your weekly diet is desirable.
Here is an interesting recipe to introduce spinach in a new way to you and your family.
INGREDIENTS:
• 2 cups of washed and finely chopped spinach
• 1 small-sized finely chopped onion
• 1 clove of peeled and crushed garlic
• 1 cups of skimmed milk
• 1 cup of all-purpose flour
• 1 tablespoon low fat butter
• ½ teaspoon of salt
• ¼ teaspoon of ground black pepper
METHOD:
1. Steep the spinach leaves in 1 ½ cups of hot water for 3-5 minutes.
2. Remove the leaves to allow it to cool.
3. Drain away a cup worth of hot water in which the spinach leaves were steeped, keeping aside the remaining ½ cup.
4. Heat ½ tablespoon of low-fat butter in a shallow pan. Add the onion and garlic and sauté until the onion is pink and soft.
5. Puree the blanched spinach leaves or you may run it through the blender.
6. Heat ½ tablespoon of butter in a non-stick wok. Add all-purpose flour and stir for five minutes at medium heat.
7. Add the skimmed milk and the hot water kept aside to the all-purpose flour.
8. Continue to stir for another five minutes so that no flour lumps remain and a thin white base is made. Add the salt and pepper
9. To this base, add the spinach puree, stirring it for a minute.
10. Turn off the heat and cover with a lid.
Spinach soup may be served hot with bread either as a snack or before lunch or dinner.
Here is the nutritional value of 100 grams of raw spinach -- figures have been rounded off (3)
• Energy 97 kJ (23 kcal)
• Carbohydrates 3.6 g
- Sugars 0.4 g
- Dietary fiber 2.2 g
• Fat 0.4 g
• Protein 2.2 g
• Vitamin A equiv. 470 μg
• Vitamin A 9400 IU
- beta-carotene 5626 μg
- lutein and zeaxanthin 12200 μg
• Folate (vit. B9) 194 μg
• Vitamin C 28 mg
• Vitamin E 2 mg
• Vitamin K 483 μg
• Calcium 99 mg
• Iron 2.7 mg
SOURCES:
1. Spinach; Wikipedia; March 2012
http://en.wikipedia.org/wiki/Spinach
2. Spinach; World's Healthiest Foods; March 2012 http://whfoods.org/genpage.php?dbid=43&tname=foodspice
3. Raw Spinach; USDA, Agricultural Research Service- National Agricultural Library - National Nutrition Database for Standard Reference; March 2012
http://ndb.nal.usda.gov/ndb/foods/show/3233
INFORMATION IN THIS ARTICLE IS NOT MEDICAL ADVICE. ALL INFORMATION GIVEN IS TO BE CHECKED WITH YOUR DOCTOR BEFORE IMPLEMENTING OR TAKING THEM AS STANDARD OR VERIFIED.
Mamta Singh is a published author of the books Migraines for the Informed Woman – Tips From A Sufferer: ISBN: 978-81-291-1517-1 (Publisher: Rupa & Co. URL: http://www.amazon.com/Migraines-Informed-Woman-Tips-Sufferer/dp/8129115174/ref=sr_1_2?ie=UTF8&s=books&qid=1298990756&sr=1-2), Mentor Your Mind – Tested Mantras For The Busy Woman: ISBN: 978-81-207-5973-2 (Publisher: Sterling Publishers; URL: http://www.amazon.com/Mentor-Your-Mind-Tested-Mantras/dp/8120759737/ref=sr_1_1?ie=UTF8&qid=1316063179&sr=8-1) and the upcoming Women's Complete Fitness Guide (Publisher: Hay House India).
She is also a seasoned business, creative and academic writer. She is a certified fitness instructor, personal trainer & sports nutritionist through IFA, Florida USA. Mamta is an NCFE-certified Holistic Health Therapist SAC Dip U.K. She is the lead writer and holds Expert Author status in many well-received health, fitness and nutrition sites.
She runs her own popular blogs on migraines in women and holistic health. Mamta holds a double Master's Degree in Commerce and Business. She is a registered practitioner with the UN recognised Art of Living Foundation. Please visit www.mamtasingh.com
Reviewed April 26, 2012
by Michele Blacksberg RN
Edited by Jody Smith