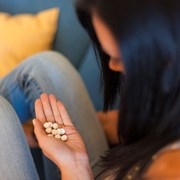 Erwin Wodicka/PhotoSpin
In the last few years, so many food and beverage products focus on adding extra vitamins and minerals.
You've got extra calcium in orange juice, vitamins A and D added to your low-fat, no-lactaid milk, vitamins with herbal supplements thrown in for good measure, and don't even get me started about vitamin water.
Apparently, the FDA has been worried that Americans aren't getting their daily amount of vitamins, which is great, but -- how much is too much?
There is such a thing as vitamin overload and when that happens, your body may stir up some nasty symptoms just to let you know that enough is enough.
So how do you know when you're overdoing it? Let's find out, shall we?
1. Vitamin C and Zinc
Many times these two cold-fighting supplements are packaged together and people tend to double up when they feel the sniffles or a scratchy throat coming on. Vitamin C is also good for gum and skin infections and certain mental illnesses such as depression, stress, dementia and even Alzheimer's disease.
But too much can cause stomach cramps, nausea, and diarrhea, so if your tummy starts to roil, ease up and check with your doctor.
2. Vitamin D
Nowadays, warnings of harmful UV rays from sun have people slathering on sunscreen from SPF 30 to SPF 75. The downside to no sun is often low levels of vitamin D, which can lead to osteoporosis and other bone fractures, depression, and weight gain, especially in older adults.
The recommended daily intake (RDI) is 600 IU and doctors often suggest kicking it up to 1000 if you are deficient. But regularly exceeding that amount may cause kidney stones and in some cases has been associated with early death, according to Sciencedaily.com.
There's a fine line between too little vitamin D and too much. Be aware.
3. Folic Acid
It's very easy to fulfill the RDI for folic acid (1000 micrograms) by including leafy green vegetables, fruits, dried beans, peas and nuts. Enriched breads, cereals and other grain products in your diet help you reach your goal too.
But, a woman past her childbearing years need not go overboard. In fact, too much folic acid increase cancer risks in older adults, both men and women, so be sure to read supplement labels and ingredients in food products to stay within safe range.
4. Calcium
Unless you live under a rock, you know that calcium is essential for healthy bones, especially in women. Experts claim that 600 milligrams of calcium per day is enough for the average person and 1000-1200 for postmenopausal women. But, calcium can be harmful to your kidneys.
"Extra calcium does you no good, and there is a small risk that if you take too much you might get a kidney stone," says Dr. Ethel C. Siris, director of the Toni Stabile Osteoporosis Center at Columbia University Medical Center in New York. That's because the body can only handle 600 milligrams of calcium at once.
Extra calcium can build up in the bloodstream and, when excreted through kidneys in urine, it can cause a kidney stone.
While many of us live in a "more is better" world, this is often not the case when it comes to our intake of vitamins. Check out Fitsugar.com for the correct RDI for most vitamins. And don't overdo.
Sources:
What to eat to get the rdi of vitamins and minerals. Fit Sugar. Web. 26, August, 2012
http://www.fitsugar.com/Chart-Vitamins-Minerals-Foods-Meet-Your-RDI-6271475
Effects of Taking Too Many Vitamins, WedMD. Web. 26, August, 2012
http://www.webmd.com/food-recipes/features/effects-of-taking-too-many-vitamins?ecd=wnl_alt_082512&ctr=wnl-alt-082512_ld-stry
Too Much Vitamin D Can Be as Unhealthy as Too Little, Study Suggests. ScienceDaily. Web. 26, August, 2012
http://www.sciencedaily.com/releases/2012/05/120529102346.htm
Is Too Much Folic Acid Giving You Cancer? Prevention. Web. 26, August, 2012
http://www.prevention.com/food/healthy-eating-tips/your-breakfast-giving-you-cancer
Too Much Calcium Could Cause Kidney, Heart Problems, Researchers Say. SHOTS – NPR Health Blog. Web. 26, August, 2012
http://www.npr.org/blogs/health/2012/08/13/158506960/too-much-calcium-could-cause-kidney-heart-problems-researchers-say
Reviewed August 27, 2012
by Michele Blacksberg RN
Edited by Jody Smith