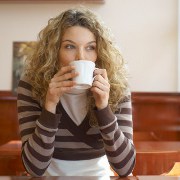 Photo: Getty Images
Anyone who follows health trends must be amazed by the explosion of probiotics -- in capsules, powders, liquids, yogurts, granola bars and other products. Probiotics seem to have a good reputation, and your healthcare practitioner can help you decide whether you need to join the crowd and get the daily dose of bacteria that probiotics provide.
The American Gastroenterological Association, in an April 24, 2010 article noted that the slew of probiotic products can overwhelm even the most conscientious of consumers. "In some respects, the industry has grown faster than the research, and scientists and doctors are calling for more studies to help determine which probiotics are beneficial and which might be a waste of money," the article said.
I recently met a nutritionist who swore by her daily consumption of a probiotic drink. And if the many TV commercials and magazine ads that I have seen are accurate, probiotics can help resolve a number of digestive issues, considering that the bacteria in these products can balance out the bacteria already in the human gut. But I needed to know -- how do I figure out the best probiotic products?
The hundreds of types of bacteria in various probiotics can be categorized by their genus, species and strain. Lactobacillus and bifidobacterium are two of the more popular genera. And the more specific a product is about the name of the bacteria, the better, because that makes it easier for you to research its credibility.
Here are a few other helpful tips from the International Scientific Association for Probiotics and Prebiotics (ISAPP):
Beware of products sold in stores that claim they can "cure, treat or prevent disease," as only a claim of general health benefits is allowable under federal law. Read labels to make sure there's a website or consumer hotline where you can find out about the research that went into the product.
More CFUs (colony forming unit, a measure of microbes) does not necessarily mean better quality. It depends on what the scientific literature has said as far as an effective amount for various conditions, and that could be anywhere from 50 million to 1 trillion CFUs a day.
Look for packaging that tells you not only the strain of probiotic, the CFUs and a tie-in to scientific research, but also the suggested serving size and a statement of health benefits.
You can download ISAPP's consumer guidelines at http://www.isapp.net
The Gastroenterological Association suggested that the choice of a probiotic product should be based on the whether the company selling it is well-established. The association also said to beware of scammers on the Internet and, if shopping in a store, to carefully read the label for ingredients and shelf life. The live microorganisms in probiotics won't do much good if they die.
Go to the AGA Patient Center at http://www.gastro.org/patient-center/diet-medications/probiotics to download the brochure "Probiotics: What They Are and What They Can Do for You."
I know I have some reading ahead of me as I continue to do my shopping.
Sources:
"ISAPP's Consumer Guidelines for Choosing a Probiotic or Prebiotic Product." International Scientific Association for Probiotics and Prebiotics. Web. 17 Aug. 2011.
http://www.isapp.net
"Probiotics: What They Are and What They Can Do for You." American Gastroenterological Association. Web. 17 Aug. 2011. http://www.gastro.org/patient-center/diet-medications/probiotics
Reviewed August 17, 2011
by Michele Blacksberg R.N.
Edited by Jody Smith