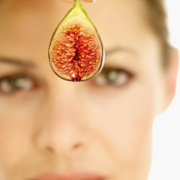 Photo: Getty Images
Saturdays are my favorite day of the week. Not because I don't have to work, because Saturdays in San Francisco are farmer's market days. (If you've never been to SF, be sure to come over a weekend and dedicate Saturday morning to the Ferry Building.) In honor of the delicious produce that warm weather brings, try these six summer-only produce items to get your five-serving fix.
Pluots: Half plum, half apricot, and fully delicious, pluots are one of the juiciest and most unique summer finds. For a delicious warm weather salad, slice pluots into a classic spinach salad and toss with feta, walnuts, and balsamic vinaigrette.
Figs: One of the most celebrated, beautiful, and delightful warm weather fruits, figs are a nutrient-rich treat. For a swanky appetizer wrap figs in a piece of bacon and broil in the oven until bacon is brown and crispy.
Heirloom Tomatoes: While tomatoes are available all year round, heirlooms are only found in the summertime. Colorful, soft, and good enough to bite in to, heirloom tomatoes are a true summer treat. Let the juicy tomato flavors sing by serving them on a slice of toasted, crusty baguette with a dollop of mayo, salt, pepper and olive oil.
Okra: A Southern and Asian favorite, okra is an often-neglected but always delicious veggie. Dust okra with cornmeal and lightly stir-fry for an awesome summer side. Remember to never rinse sliced okra to avoid gumminess.
Rhubarb: Best known as a pie filler, rhubarb is soft and delicious when baked. For a sweet summer tea, boil eight stalks of rhubarb with eight cups of water and let simmer for one hour. Let cool, sweeten, garnish with mint, and serve over ice.
Zucchini Blossoms: A beautiful and rare delicacy in many countries, zucchini blossoms are not always readily available. When found, snatch them up; they are a true treat. Sautee blossoms with oil, salt, and pepper and serve over pasta or in a frittata for a unique summer treat.
Edited by Jody Smith