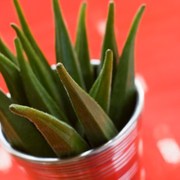 Monkey Business/Thinkstock
Okra is a vegetable that grows in summers and finds natural habitat in regions around the world which have tropical or at least warm climates. It is a flowering plant that bears small yellow flowers when mature and belongs to the Mallow family, just like hollyhocks.
Its fruit pod is the okra we use as vegetables. The pod is long and tapering with mucilaginous interiors that bear small white or pale seeds which are also edible. The origins of okra have been traced to West Africa, near the country of Nigeria. (1)
Okra is known to be a rich source of plant fiber, calcium and folic acid. It is also considered to have high oxalate content. Oxalates are organic acids that are manufactured in plants and animals a as result of partial oxidation of carbohydrates.
However, oxalates can form minute crystals in our body if not effectively and completely excreted through urine. For this reason those suffering from kidney stones, gout and rheumatoid arthritis should avoid eating them. (2)
Like broccoli, okra (also known as gumbo and ladies' fingers) is one of the tricky vegetables to get the children to eat. Here's an okra-potato stir-fry recipe I do every other week and is a particular favorite at home:
INGREDIENTS:
• 1 pound of fresh/farm okra – washed and cut into medium size pieces
• 1 small-sized potato – washed and cut into medium-sized pieces
• 1 tablespoon of sunflower oil
• ½ teaspoon of cumin seeds
• ½ teaspoon of turmeric powder
• 4 whole black peppercorns
• 1 teaspoon of salt
• ½ teaspoon of red chilli powder (optional)
METHOD:
1. Heat sunflower oil in a non-stick pan.
2. When the oil is warm, add the cumin seeds and the black peppercorns.
3. When the spluttering of the cumin and pepper begins, add the cut okra and potato.
4. Add the turmeric, salt and chilli powder (optional) and stir for a minute so that the ingredients mix well.
5. Cover with a lid and turn the heat to low.
6. Open after 5 minutes and stir gently and then cover again.
7. Uncover lid after 10 minutes and stir one last time.
8. Turn off the heat and put the lid on.
The nutritional data for ½ a cup of sliced and cooked okra is: (3)
• Calories 25
• Dietary Fiber 2 grams
• Protein 1.52 grams
• Carbohydrates 5.76 grams
• Vitamin A 460 IU
• Vitamin C 13.04 mg
• Folic acid 36.5 micrograms
• Calcium 50.4 mg
• Iron 0.4 mg
• Potassium 256.6 mg
• Magnesium 46 mg
SOURCES:
1. Okra; Wikipedia; February 2012;
http://en.wikipedia.org/wiki/Okra
2. Can you tell me what oxalates are and in which foods they can be found?; World's Healthiest Foods; February 2012;
http://whfoods.org/genpage.php?dbid=48&tname=george
3. Okra; University of Illinois Extension – Grow Your Own Garden; February 2012;
http://urbanext.illinois.edu/veggies/okra.cfm#9
INFORMATION IN THIS ARTICLE IS NOT MEDICAL ADVICE. ALL INFORMATION GIVEN IS TO BE CHECKED WITH YOUR DOCTOR BEFORE IMPLEMENTING OR TAKING THEM AS STANDARD OR VERIFIED.
Mamta Singh is a published author of the books Migraines for the Informed Woman – Tips From A Sufferer: ISBN: 978-81-291-1517-1 (Publisher: Rupa & Co. URL: http://www.amazon.com/Migraines-Informed-Woman-Tips-Sufferer/dp/8129115174/ref=sr_1_2?ie=UTF8&s=books&qid=1298990756&sr=1-2), Mentor Your Mind – Tested Mantras For The Busy Woman: ISBN: 978-81-207-5973-2 (Publisher: Sterling Publishers; URL: http://www.amazon.com/Mentor-Your-Mind-Tested-Mantras/dp/8120759737/ref=sr_1_1?ie=UTF8&qid=1316063179&sr=8-1) and the upcoming Women's Complete Fitness Guide (Publisher: Hay House India).
She is also a seasoned business, creative and academic writer. She is a certified fitness instructor, personal trainer & sports nutritionist through IFA, Florida USA. Mamta is an NCFE-certified Holistic Health Therapist SAC Dip U.K. She is the lead writer and holds Expert Author status in many well-received health, fitness and nutrition sites. She runs her own popular blogs on migraines in women and holistic health.
Mamta holds a double Master's Degree in Commerce and Business. She is a registered practitioner with the UN recognised Art of Living Foundation. Please visit www.mamtasingh.com
Reviewed March 27, 2012
by Michele Blacksberg RN
Edited by Jody Smith