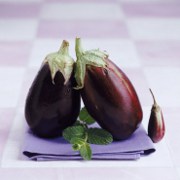 Photo: Getty Images
Ever find yourself in an appetizer rut? Everyone knows they can expect your world-famous spinach dip when dining at your house every time ... without fail. While it's cool to have a signature dish, it's even cooler to switch it up and impress your guests every once in awhile. Next time your buddies come over for dinner, impress them with your global culinary skills and take them on a trip to the Middle East.
While store-bought hummus is nothing new, this homemade version with roasted eggplant is surprisingly simple and always delicious.
Roasted Garlic Hummus
2 cups canned garbanzo beans (about one can)
2 tablespoons tahini
4 tablespoons olive oil
1/4 cup warm water
1 large head of garlic
Juice of one lemon
Salt and pepper to season
Preheat oven to 375°F. Slice off the top of the garlic to expose the tops of cloves. Drizzle with olive oil and wrap in foil. Bake in heated oven for 1 hour. Once garlic has cooled, squeeze into the food processor and blend with all other ingredients until smooth. Serve with pitas, chips, or sliced veggies or use as a sandwich spread.
For a more complex and earthy version of hummus, blend in a roasted eggplant for baba ghanoush, a classic Eastern-inspired starter.
Baba Ghanoush, Roasted Eggpplant Dip
1 large eggplant
1 can garbanzo beans
2 cloves garlic
2 tablespoons flat leaf parsley
2 tablespoons tahini
1 tablespoon extra virgin olive oil
2 tablespoons lemon juice
Preheat oven to 450°F. Using a fork, prick eggplant all over and then let bake for around 30 minutes until it collapses. Let cool. In a food processor, blend drained and rinsed garbanzo beans, garlic, tahini, olive oil, parsley, and lemon juice. Once completely cooled, remove fleshy part of eggplant and add to mixture. Blend until it's reached your desired consistency. Season with salt.
This versatile dip is perfect as a cool side to hot, spicy Middle Eastern cuisine or as a light and refreshing dip on a warm summer evening.
Middle Eastern Yogurt Dip
16 ounces plain cold yogurt
2 garlic cloves, minced
2 tablespoons lemon juice
Salt and pepper to taste
Combine yogurt, lemon juice, garlic, and salt in a small bowl and stir well. Serve chilled as a dip or sauce for meat dishes or refrigerate and use for up to 5 days.
Edited by Jody Smith