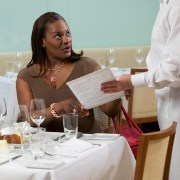 Photo: Getty Images
While most dieters know how to navigate the menu at American restaurants, things get a bit trickier when it comes to ethnic eats. From foreign dish names to copious sides and starters, the potential for falling off the healthy wagon is much higher when you're eating on unfamiliar territory. Follow the tips below to keep your waistline in check next time you choose to go global when dining out.
Indian:
While many people think Indian food is full of heavy sauces and greasy curries, there are actually quite a few healthy options. Choose grilled fish and chicken dishes like tandoori or kebabs with a side of raita, a vegetable yogurt sauce. When ordering naan, ask for it plain, not buttered as it traditionally comes. Opt for steamed rice over biryani and avoid anything with coconut milk or that's deep fried like samosas or pooris.
Chinese:
One of the biggest traps in Chinese food is the high levels of sodium. Opt for a low-sodium soy sauce and avoid anything that's breaded, crispy, or fried. Start with a healthy soup and stick to entrees like steamed vegetables, chicken with cashes, moo shi shrimp, and steamed dumplings. Avoid sauces that are sugary, flour- or cornstarch-based, and ask for less sauce as a foolproof way to cut the cals.
Italian:
When eating Italian it's wise to start your meal with a tossed salad (not a cheese, cream, and crouton covered Caesar, but the house salad) or a bowl of tomato or broth-based soup. If you're choosing pasta, avoid lasagna or anything filled with cheese like ravioli or tortellini. Request whole-wheat pasta and choose a simple, vegetarian sauce like pasta primavera. Steer clear of Alfredos and other cream-based or cheese-based sauces. Look for grilled or steamed seafood options and stick to red sauces.
Mexican:
We all know where the temptation lies at any Mexican restaurant: the (usually bottomless) tortilla chips. Avoid the chips and choose soft tortillas instead of crunchy whenever possible. Choose black or pinto beans over refried beans and ask for corn tortillas whenever possible. Some good options are bean burritos, soft shell tacos, and fajitas. Also, share a portion when dining Mexican as the overflowing plates of rice, beans, tortillas, and entrees are usually enough for two.
Thai:
Thai food is full of both healthy and unhealthy options. Thai salads, tofu dishes, satays, vegetable-heavy dishes, and non-coconut-based soups are all great options. For entrees, good choices are dishes with sauces labeled lemon grass, lime, curry, basil, chili, and fish sauce. Avoid dishes made with coconut or coconut milk, peanut-based sauces, or anything deep fried like spring rolls.
Edited by Jody Smith