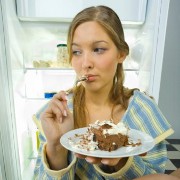 Photo: Getty Images
If you ever struggle with soda, cookie or candy cravings, or if you finish off large helpings of baked treats on a regular basis, you may be one of the many sugar addicts in the United States. Luckily, it seems our willpower has gotten a bit better in recent years.
Americans finally lowered their sugar consumption over the past decade, according to an article by the Los Angeles Times published on July 30, 2011.
A new study by the American Journal of Clinical Nutrition indicated people living in the United States ate about 25 teaspoons (375 calories) of sugar per day in 2000. But in 2008, consumption decreased to about 19 teaspoons (285 calories).
The researchers did not count natural sugars (such as fructose in fruits) in the study. Instead, they focused on only added sugars like white sugar, high-fructose corn syrup, honey, etc.
One of the main reasons for the drop in sugar intake includes more Americans avoiding sodas and other sugary drinks. However, consumption of energy drinks increased, along with a 20 percent increase in the intake of low-calorie beverages.
In the past, the United States suffered from a serious addiction to added sugar. According to the LA Times article, "Between 1977 and 1996, Americans increased the number of calories they got from added sugars from about 235 to 320 a day, a change linked to the nation's expanding waistline and to an increase in the rates of heart disease and diabetes."
Although things are looking up for America and its sweet tooth, the U.S. Dietary Guidelines indicate we still take in too much added sugar.
Many people don't realize the danger of eating foods high in sugar. According to mental health expert Dr. Charles Raison, sugary foods "are especially likely to stimulate our brain in ways that can become addictive."
"In addition to stimulating brain reward centers, sweet food markedly affects stress hormones in ways likely to provide a sense of temporary reprieve from anxiety," Raidon said on CNN.com, adding, "Of course, in addition to all the health problems linked to binge eating, the eater is likely to end up in a worse spot, much as the alcoholic who drinks to forget that he has a drinking problem."
Raison also said an addiction to sugar can eventually lead to depression, especially because sweet foods tend to lead to obesity (a huge risk factor for depression).
To overcome a sugar addiction, Raison suggested designing a type of "sugar rehab", requiring the addict to muster up enough willpower to eliminate sugar from his or her diet completely.
Raidon explained, "… It is easier for an alcoholic to stop drinking completely than to just drink a little. I want to suggest that the same approach might benefit your attempts to break the sugar addiction."
Eliminate as many processed foods as you can, and instead, fill your plate with natural foods like vegetables, fruits, whole grains, etc. Try treating fruits as desserts rather than reaching for cakes and cookies. After you get rid of the unnatural sugars in your diet, you may notice fruits begin to taste sweeter and more satisfying.
Like any addiction, sugar obsessions can be extremely difficult to overcome. Try replacing the time you would spend eating sweets by doing something productive, such as riding a bike or reading a good book. Ask friends and family members to help you out by hiding treats or talking you out of that bowl of ice cream for dessert.
Most importantly, remember to forgive yourself. You probably will cave on occasion, but shake it off, start over and remember that you are doing your body and your health a huge favor.
Sources:
http://www.cnn.com/2010/HEALTH/expert.q.a/04/27/sugar.addiction.raison/index.html
http://www.cnpp.usda.gov/Publications/DietaryGuidelines/2010/PolicyDoc/ExecSumm.pdf
http://www.latimes.com/health/boostershots/la-heb-added-sugar-consumption-20110729,0,3109006.story?track=rss
http://www.medscape.com/viewarticle/747245
Reviewed August 4, 2011
by Michele Blacksberg R.N
Edited by Jody Smith
Kate Kunkel is a journalism student looking to minor in nutrition at Arizona State University. She currently interns for EmpowHER and has a passion for healthy eating and fitness.
Thank you for reading and please feel free to leave a comment!