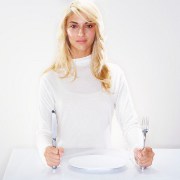 Photo: Getty Images
We're all familiar with the ever-changing USDA food pyramid. Well, as some of you may know, the "pyramid" we're all used to has changed into a shape that actually makes a little more sense -- a plate! On their website, you can take a peek at the new USDA food plate, along with some neat tools and resources.
With a holistic health perspective, I personally think that the new plate is overall a step in the right direction. Although a healthy diet seems like a no-brainer, the importance of what we put in our body is very often overlooked. A recent article, "Holistic Approach Benefits Cerebral Palsy Patient," reminds us that sometimes for even the most drastic diseases or ailments, simple diet alterations can be life-changing.
An increased awareness about healthy foods in addition to healthy diet changes really can make a world of difference! This new diagram helps us put a more realistic, applicable food reference for the real world. So let's check it out!
This new figure displays the recommended food groups that should be seen on your plate at every meal. Fruits and vegetables take just slightly over a majority of the plate, with grains and proteins taking up the other half.
An important change is that instead of saying "meat" on the plate it says "protein." It's important to remember that protein can come from many different sources including legumes and dark leafy greens. (Healthy vegetarians do exist!) Below the diagram are a few written recommendations including the reminder to remain aware of portion sizes, increase consumption of fruits and veggies, and watch out for sodium and sugar intake.
In addition to the plate, there is also a cup full of what is labeled "dairy." I don't know what else is commonly considered dairy and drinkable, but I'm assuming this means milk. Now maybe they can pull this off for kids, who Americans have been brain-washed to think need milk, but as adults who generally produce a lot less lactase (the enzyme that metabolizes the lactose found in milk) I absolutely do not think that this mucus-producing, calf-feeding fluid should be consumed with every meal.
However, overall, I believe that the few new changes to the food "pyramid" will provide an easier, more applicable food guide for Americans. Did you only order pasta for dinner? How about adding a salad before or with your meal? And almost any vegetable is tasty when added to pasta or pizza, or as a side to any dish for that matter! Eat fruit as a dessert or a healthy breakfast or snack.
Throughout the centuries, our ancestors have survived on a natural diet (literally, food coming from nature). Today when we go to the grocery store, we are overwhelmed with the different types of shelved, processed food products, and we wonder why there is a growing epidemic of obesity. Tip of the week: If your great grandmother wouldn't recognize it, don't eat it!
Sources:
"USDA's My Plate." The U.S. Department of Agriculture. August 01, 2011. http://www.choosemyplate.gov.
"Holistic Approach Benefits Cerebral Palsy Patient." WFAA-TV Dallas/Fort Worth. August 12, 2011.
http://www.wfaa.com/news/local/Holistic-approach-benefits-cerebral-palsy-patient-127166893.html.
Reviewed August 15, 2011
by Michele Blacksberg R.N.
Edited by Jody Smith