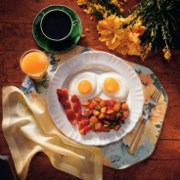 Photo: Getty Images
A diet program that allows you to eat pretty much every type of food and cuisine is to most a dream. But Weight Watchers PointsPlus Plan encompasses everything from Italian, Mexican and Asian cuisines. Delectable recipes on their online site allow you to enjoy a variety of desserts as well. Weight Watchers claims that their "approach to food can work for anyone as well as being easy to fit in the foods you already love."
One of their most popular plans is the PointsPlus formula which "takes into account how our body processes a variety of foods and breaks it down into a point numbering system inclusive of the percentages of fat, carbohydrates, fiber and protein." You are given a point value each day to stick to, but have the liberty of choosing from a variety of different foods and fantastic recipes.
Let's start the day off with what Weight Watchers calls Eggsceptonal Dishes featuring everything from bacon, eggs and hash browns to Eggs Benedict. You can even splurge in the morning on the eight point Belgian Waffle recipe and eat breakfast like a king.
Lunch is on the menu with salads that rival gourmet chefs. Take for example their gourmet recipe of Lentil Salad with Fresh Mint and Goat Cheese. In about 30 minutes you can have this delicious salad ready. The point value for this particular recipe is four. Each one of the recipes is rated for point value and level of difficulty it takes to prepare it.
Traditional Sunday dinners like spaghetti are remade with a healthy marinara over whole wheat pasta. The recipes include everything from a healthy version of a Philly cheesesteak to a Tomato Pepper Lasagna. You are also given Weight Watchers Power Foods of the utmost most nutritious choice, such as a banana or delectable recipe concoctions featuring those extra nutritious choices.
Entertaining ideas with healthy variations of Baked Ziti are also on the menu. A Baked Pasta with Butternut Squash and Ricotta Recipe really caught my eye and taste buds prepared with toasted walnuts in just 60 minutes and just seven points per serving.
I find the choice aspect most attractive, as it gives you the accountability and freedom of controlling your own progress. It allows you to understand your own body and how certain types of foods will react and which ones allow you to experience the best results.
Your guy can stay on track with their man-sized favorites of nachos, wings and pizza on the Weight Watchers for Men Plan. Sunday kickoff can lighten up, but still taste great thanks to the choices and versatility of Weight Watchers Recipes.
Online References:
Weightwatchers. Web. Aug. 24, 2011.
http://www.weightwatchers.com
http://www.weightwatchers.com/plan/index.aspx
http://www.weightwatchers.com/plan/apr/unique.aspx
Joanne Sgro-Killworth is a Television Fitness Expert, Certified Personal Trainer and Sport Nutritionist. She is Certified in Pilates, Pre-natal/Post-Partum, Yoga and Senior Fitness. She specializes in Weight Loss, Post-Rehab and Post Cancer Training. Joanne's fitness plans and recipes are available globally on her website www.fitnessanswer.com. She resides in the Phoenix, AZ area with her husband, where she runs her personal training business, Fitness Answer, LLC.
Reviewed August 26, 2011
by Michele Blacksberg R.N.
Edited by Jody Smith
Tags: