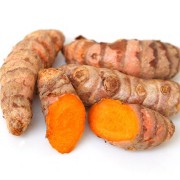 Photo: Getty Images
Of all the spices that cure, one of the most potent and powerful one is turmeric. An ancient Indian herb, the medicinal wonders of this yellow wonder have been curing people for centuries. From an infected cut to certain forms of cancer, there are a multitude of reasons to add turmeric to your diet.
If you're still not convinced, here are ten reasons to add some of this powerful yellow spice to your diet:
1. Turmeric is a natural antiseptic perfect for disinfecting cuts, scrapes, and burns.
2. In Ancient Chinese medicine turmeric has been used to treat depression for centuries.
3. In certain studies, turmeric has been shown to aid in the metabolism of fat and help subjects with weight loss.
4. Turmeric has innate detoxifying properties, especially for liver detoxification.
5. Studies have shown that turmeric has helped prevent the spreading of various types of cancer.
6. Turmeric has powerful natural anti-inflammatory properties.
7. Turmeric has been used as a natural painkiller for centuries.
8. In patients with Alzheimer's disease, turmeric has been proven to slow the progression of memory loss.
9. Applying turmeric to wounds or damaged skin helps with the healing process.
10. Its innate anti-inflammatory properties make it a powerful natural treatment for arthritis.
When combined with cauliflower, turmeric has proven to prevent and stabilize the growth of prostate cancer. This common Indian method of preparing cauliflower and potatoes with turmeric is the perfect healthy addition to your family's weekly diet.
Simple Indian Aloo Gobi (Cauliflower and Potatoes)
1 tablespoon vegetable oil
1 teaspoon cumin seeds
1 teaspoon finely minced garlic
1 teaspoon finely minced ginger
2 medium potatoes, peeled and cubed
1/2 teaspoon ground turmeric
1/2 teaspoon paprika
1 teaspoon ground cumin
1/2 teaspoon garam masala (a common Indian spice blend avialble at any most ethnic groceries)
Salt to taste
1 pound cauliflower
1 teaspoon chopped fresh cilantro
Heat oil over medium heat. When hot, add cumin, garlic, and ginger to oil. Cook for 1 minute until garlic is lightly browned and it starts releasing a fragrance. Add potatoes, turmeric, paprika, cumin, garam masala,, and salt. Cover and let simmer for 7 minutes stirring frequently. Add in cauliflower and cilantro. Reduce heat to low and let cook for 10 minutes until tender and fragrant.
Sources:
Turmeric and Curcumin: Health, Spice, and Supplement Information. WebMD. Web. 11 Aug 2011.
http://www.webmd.com/vitamins-and-supplements/lifestyle-guide-11/supplement-guide-turmeric
Turmeric. WHFoods. Web. 11 Aug 2011.
http://www.whfoods.com/genpage.php?tname=foodspice&dbid=78
Reviewed August 16, 2011
by Michele Blacksberg R.N.
Edited by Jody Smith