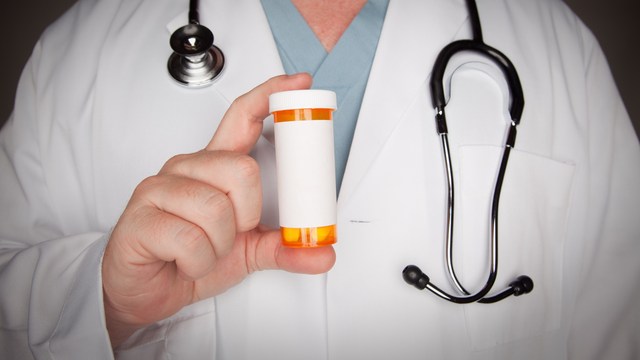 Andy Dean Photography/PhotoSpin
The FDA has approved the use of a handheld injector filled with a drug that reverses an opioid overdose. Family members, friends or anyone who finds someone who may have overdosed on heroin or prescription opioids can now administer this first line drug while waiting for health responders to appear on the scene.
The drug Narcan (naloxone hydrochloride) will be available in a pre-filled injector sold under the brand name of Evzio starting this summer. It will still require a prescription but can now be carried in a pocket or stored in a medicine cabinet in case it is urgently needed.
Health care providers in emergency rooms and ambulances have used Narcan for years when an opioid overdose is suspected. Symptoms of opioid overdose are decreased breathing, heart rate or loss of consciousness.
Narcan can only reverse an opioid overdose so it will not revive someone who has overdosed on alcohol or another drug. In addition, the effect of Narcan wears off, so emergency medical care is still urgently needed after it's given.
According to FDA Commissioner Margaret Hamburg, "16,000 people die every year due to opioid-related overdoses. Drug overdose deaths are now the leading cause of injury death in the United States, surpassing motor vehicle crashes," reported Sci-Tech Today.com.
"The death toll from overdoses of prescription painkillers has more than tripled in the past decade," according to a 2011 CDC report. "This new finding shows that more than 40 people die every day from overdoses involving narcotic pain relievers like hydrocodone (Vicodin), methadone, oxycodone (OxyContin), and oxymorphone (Opana)".
The response to the new announcement has generally been very positive among experts such as the Substance Abuse and Mental Health Services Administration (SAMHSA) and the National Institute on Drug Abuse (NIDA).
There are of course, naysayers. According to Medscape, the governor of Maine has publicly said that he does not want these kinds of drugs available to family members because he believes it encourages abuse.
His thinking is that people may be more inclined to use heroin or other opioids knowing that the drug's effect can be reversed by friends in attendance, giving them a false sense of security.
Other states have embraced the benefits. At least 17 states and the District of Columbia already allow Narcan to be distributed to the public. Some of those states allow for third parties, such as a family member or friend of an intravenous drug user, to carry it if prescribed.
In New York State, every state and local law enforcement officer will begin this week to carry syringes and inhalers of Narcan.
The only detail left is the price. It is not known how much Evzio will cost and what insurance will allow for reimbursement. Nasal spray of Narcan costs between $15 and $40.
Evzio will be delivered by an auto-injector that provides verbal instructions that are easy to follow.
Currently nasal spray is only available off-label to use for an opioid overdose reversal. It is likely that with this new FDA announcement, that will change.
Sources:
FDA approves new hand-held auto-injector to reverse opioid overdose. FDA. Food and Drug Administration.
http://www.fda.gov/NewsEvents/Newsroom/PressAnnouncements/ucm391465.htm?...
FDA Approves Easy-to-Use Heroin Overdose Antidote. Sci-Tech Today.com.
http://www.sci-tech-today.com/news/Heroin-Overdose-Antidote-Approved/sto...
Prescription painkiller overdoses at epidemic levels. Press release. Centers for Disease Control and Prevention.
http://www.cdc.gov/HomeandRecreationalSafety/pdf/HHS_Prescription_Drug_A...
FDA OK's injector device to counter drug overdoses.
http://www.bostonglobe.com/news/science/2014/04/03/fda-approves-easy-use...
Experts Applaud Rapid FDA Approval of Opioid Overdose Device.
http://www.medscape.com/viewarticle/823094?src=rss
Michele is an R.N. freelance writer with a special interest in woman's healthcare and quality of care issues. Other articles by Michele are at www.helium.com/users/487540/show_articles
Edited by Jody Smith