A little over a year ago, Jordan Younger began her blog "The Blonde Vegan"- now "The Balanced Blonde"- to chronicle her vegan journey. Younger had suffered from stomach problems her whole life and for the first time she felt good about the healthy diet she was following.
Younger's blog gained a large following and she left grad school to pursue growing The Blonde Vegan's brand. As her brand expanded, Younger's vegan and healthy lifestyle habits shifted into more obsessive eating behaviors and an eating disorder called Orthorexia.
"I wanted to feel as healthy as I could so I got really carried away with reading about veganism, doing research and following other blogs," Younger said. "I developed fears around food and was constantly trying to find different ways to be as clean internally as I possibly could."
Orthorexia is an eating disorder characterized by the fear of eating anything that is not completely pure or clean. It can start out as an attempt to eat healthier, but escalates into an obsession with eating only healthy foods, according to the National Eating Disorders Association (NEDA).
"I was obsessed with health, not being super skinny," Younger said.
While suffering from Orthorexia, Younger tried to mask her healthy obsessions, she said. She went out to eat with friends, but would eat beforehand to make sure she got in a healthy meal. When going out, Younger checked that there was an organic grocery store around and panicked about when and what her next meal would be.
With eating disorders, many people assume it's something written on your body that you can notice, Younger said. But with Orthorexia, Younger was suffering more psychologically.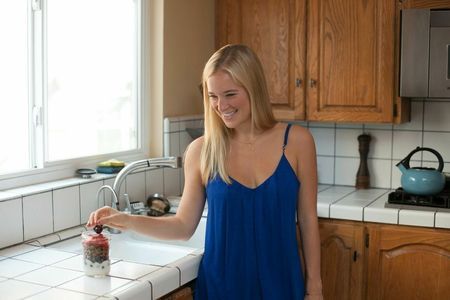 "I was almost thinking about food 100 percent of the time," Younger said. "It was confusing because you're trying to think about other things, but in the back of your mind, you're always thinking about food."
According to Younger, it was a very scary and dark time in her life.
Tags: