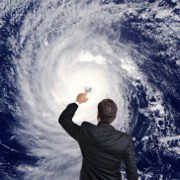 Photo: Getty Images
Hurricane Irene reminds us that despite our best efforts and best intentions, no one can accurately predict the future. Stuff happens that we don't expect, no matter how "certain" we are, but no matter how things turn out there are people who will criticize and place blame.
People like that are toxic, and drag everyone down with them. If you have them in your life, try to avoid them. If you ARE one of them, stop it right now. It's stressful to be like that and it's stressful to be around someone like that, because no matter what the outcome you end up angry about something.
With Irene, the forecasters said that it would be a Category 3 storm when it hit New York City. The media went with the story and the result was mass evacuations in anticipation of "the big one." What actually happened? Irene had been downgraded to a Category 1 storm by the time it reached New York and the effects were serious but not nearly as catastrophic as predicted. That's a good thing, but the point is that the forecasters did the best they could with the information and tools at their disposal but were, as it turned out, wrong.
Now the critics are saying that it was over-hyped, that there were a lot of unnecessary precautions taken, it's the media's fault, and that the forecasters don't know what they're doing.
What if the hurricane had arrived at New York as a Category 4 instead of the predicted Category 3? Those same critics would say that not enough precautions where taken, it's the media's fault, and that the forecasters don't know what they're doing.
It's really unfortunate that we have to live with and/or among them. They place a dark cloud over everything. Why do they do this? I'm not a psychologist so I won't even venture a guess, although I have my suspicions.
Live as though everyone's intentions are good, and that they are doing the best they can. You'll be disappointed once in a while, but the alternative is just unacceptable and will cause you unnecessary stress.
Dealing with cancer, some other major illness, or life in general? Our free daily tips will help you cope: sign-up at http://www.CopingQuickies.com For even more stress management tips and techniques visit http://www.CopingUniversity.com where world-class experts share their wisdom to help you cope. Hours of FREE online audio programs will help reduce your stress and restore your hope. Topics are unique, unusual, fascinating, and just plain fun! Learn how to find humor when nothing seems funny, how to love the way you look no matter what, and how to be romantic even during a serious illness. Our online content is always free, so visit today! And, check out our YouTube channel for entertaining coping ideas: http://www.YouTube.com/copinguniversity
Edited by Jody Smith