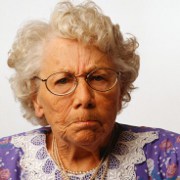 Photo: Getty Images
Ebenezer Scrooge is the epitome of a curmudgeon. And although he's a fictitious character brought to the forefront of our minds only one month each year, it's likely we know someone in our own circle of friends and family who portray similar characteristics at some point throughout the year.
Ebenezer Scrooge struggled with the ghosts of his past, present and future, but for real-life curmudgeons, researchers say they have a different type of battle to fight.
According to Concordia University researchers who have examined the relationship between failure, bitterness and quality of life, they say constant bitterness can actually make a person physically ill.
Carsten Wrosch, a professor in the Concordia University Department of Psychology and a member of the Centre for Research in Human Development, has investigated and accrued a body of work spanning 15 years on how negative emotions – such as regret or sadness – affect people.
Wrosch has focused his attention most recently on bitterness and its implications on one's health. Wrosch and co-author Concordia alumna Jesse Renaud "single out failure as one of the most frequent causes of bitterness. Anger and recrimination are its typical attendants," according to a release on the study.
"Persistent bitterness may result in global feelings of anger and hostility that, when strong enough, could affect a person's physical health," says Wrosch.
"When harboured for a long time ... bitterness may forecast patterns of biological dysregulation (a physiological impairment that can affect metabolism, immune response or organ function) and physical disease."
Worsch and Renaud are not the first to suggest bitterness can lead to physical disease. One man claimed in 2003 that bitterness should be widely accepted as a mental illness.
Michael Linden – head of the psychiatric clinic at Free University of Berlin – "argues that bitterness is actually a medical disorder and should be categorized as post-traumatic embitterment disorder (PTED). He estimates that between one and two percent of the population is embittered and by giving the condition a proper name, people with PTED will receive the therapeutic attention they deserve."
Worsch and Linden are on opposite sides of the camp on this. Worsch believes long-term bitterness can be avoided and that if a person feels they have failed at something, re-evaluating or a change in course can remedy those feelings. For example, if you've failed at a job, becoming successful in a new job or career can alleviate one's feelings of failure and ultimately, bitterness.
Renaud stresses that self-regulation of knowing when to feel bitter and how to redirect those feelings can help a person cope with failure.
So while Ebenezer Scrooge doesn't have a cold come Christmastime each year, he's cold in other ways. The next time you're harboring feelings of angst and bitterness, it may do you some good to re-channel your energy into positive thoughts, otherwise, be prepared to call in for a sick day.
Can blaming others make people sick?
http://www.eurekalert.org/pub_releases/2011-08/cu-cbo080911.php
Self-regulation of bitterness across the lifespan
http://www.springerlink.com/content/l236l3hu87056j03
Reviewed August 9, 2011
by Michele Blacksberg R.N.
Edited by Jody Smith
Bailey Mosier is a freelance journalist living in Orlando, Florida. She received a Masters of Journalism from Arizona State University, played D-I golf, has been editor of a Scottsdale-based golf magazine and currently contributes to GolfChannel.com. She aims to live an active, healthy lifestyle full of sunshine and smiles.