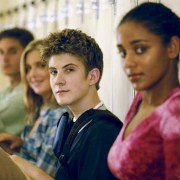 Photo: Getty Images
Cheerleaders, debate team members, offensive linemen, valedictorians, trumpeters, and yearbook editors. The halls of high schools are filled with an undulating landscape of adolescents all trying to fit in and figure out their place in the world – not an easy task by any measure.
We've all been there and can reminisce and relate to the angst that teenagers feel – at some point – throughout the awkward and ever-changing years of puberty and adolescence. Recent research suggests that those who cope and navigate these tumultuous years well have the upper hand in long-term health.
According to a study published in the July 2011 issue of the Journal of Adolescent Health, experts say, teenagers who cope best with the tribulations of teen life, actually grow into healthier adults.
In the first study of its kind, researchers from Northwestern University analyzed a collection of data from 10,147 young people as part of the National Longitudinal Study of Adolescent Health. The data was collected on this set of teenagers in 1994, where researchers asked the teens questions about their physical and emotional health and well-being. Follow-up interviews were conducted in 1996 and 2001.
Researchers were able to draw parallels between teenagers who had an overall sense of positive well-being and better overall health as adults. Researchers also found that teens with high positive well-being were less likely to engage in unhealthy behaviors such as smoking, binge drinking, using drugs and eating unhealthy foods as they transitioned into young adulthood.
"Our study shows that promoting and nurturing positive well-being during the teenage years may be a promising way to improve long-term health," said Lindsay Till Hoyt, first author of the study and a fifth-year doctoral student in human development and social policy at Northwestern.
Hoyt and her team measured 'positive well-being' in adolescents by examining the data from 1994 and looking at the answers to a series of well-being questions. The questions asked to the teenagers in 1994 focused on topics that gauged the teens' sense of happiness, enjoyment of life, hopefulness for the future, self-esteem and social acceptance.
Northwestern University researchers used these measures of positive well-being during adolescence to predict perceived general health and risky health behaviors in young adulthood, when checking back in with the teens in 2001. The team controlled the study for health conditions in adolescence, socioeconomic status, symptoms of depression, and other known predictors of long-term health.
As one of the first studies to focus on the effect positive psychological characteristics in adolescence can have on long-term health, Hoyt and her team were able to see the grander significance for adolescent health.
"A lot of health-intervention programs for adolescents are problem-focused, but if well-being matters for long-term health, reinforcing and trying to develop positive psychological characteristics is something we need to think about," Hoyt said. "People have used a positive youth development approach to curb problems like delinquency and improve school achievement, but this approach may also be a way to help improve the health of young people."
Most know how difficult the teenage years can be, and according to this study, helping our children maintain positive feelings and self confidence throughout this period can have more lasting effects on their health.
Positive teens become healthier adults
http://www.eurekalert.org/pub_releases/2011-07/nu-ptb071811.php
Happy Teens Become Happy Adults
http://www.foxnews.com/health/2011/07/20/happy-teens-become-healthy-adults/
Reviewed July 20, 2011
by Michele Blacksberg R.N.
Edited by Shannon Koehle
Bailey Mosier is a freelance journalist living in Orlando, Florida. She received a Masters of Journalism from Arizona State University, played D-I golf, has been editor of a Scottsdale-based golf magazine and currently contributes to GolfChannel.com. She aims to live an active, healthy lifestyle full of sunshine and smiles.