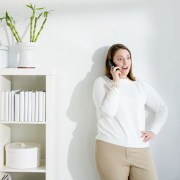 Photo: Getty Images
I'm not proud to admit it, but I heard this and immediately thought that the passenger was trying to stiff the cabbie; I'm sure it happens all the time. People shoplift and walk out of restaurants without paying; why not get out of a cab without paying?
Imagine my surprise when I got the passenger's side of the story. As it turns out, the cab took the passenger to the wrong location and refused to take her to the correct location, so she refused to pay. Now it sounds like she had a very good reason, and that the cab driver overreacted by "kidnapping" her.
But wait, there's more. The cab driver said he was "following procedure": when a passenger won't pay they are to be returned to the location of pick-up. She claimed she was being kidnapped.
It doesn't really matter whose side you are on; this is not about the cab driver and his passenger. This is about judging before you have all the facts, and the concept that there are always two sides to every story. Always.
That's not to say that the "other side" has a story that is acceptable or excusable, but it is important to at least give it a chance, and here's why: it's easy to get mad or upset about the wrong thing!
Let's say the dog has an "accident" in the house while you are at the movies. Bad dog! Then you discover that the dog door was locked by mistake and the dog had no access to the yard. That little fact changes everything, doesn't it?
You've been looking forward to lunch with a friend who you haven't seen in a long time. The friend has been a little flaky in the past but you forgive her and are willing to start over, but she doesn't show up. No call, no email, no text… she just doesn't show up.
It's easy to assume that she is back to her flaky ways, isn't it? Don't be so sure… maybe she (or someone in her family) was involved in an accident, or her car broke down on the highway where there was no cell signal, or she was trapped in a subway tunnel. The list of possibilities is endless.
Here's the lesson: wait until you have all the facts before you get upset about something. Try to give people the benefit of the doubt until you know for sure. Alan Weiss, a world-renowned consultant said, "Don't assume the other person is damaged until you get all the facts."
After all, if we're going to get upset it should be for the right reason!
Dealing with cancer, some other major illness, or life in general? Our free daily tips will help you cope: sign-up at http://www.CopingQuickies.com For even more stress management tips and techniques visit http://www.CopingUniversity.com where world-class experts share their wisdom to help you cope. Hours of FREE online audio programs will help reduce your stress and restore your hope. Topics are unique, unusual, fascinating, and just plain fun! Learn how to find humor when nothing seems funny, how to love the way you look no matter what, and how to be romantic even during a serious illness. Our online content is always free, so visit today! And, check out our YouTube channel for entertaining coping ideas: http://www.YouTube.com/copinguniversity
Edited by Alison Stanton